Home
E12
E24
E28
E30
E34
E36
Z3
E39
E46
X5/E53
ALL
Ron Stygar
Carl Buckland
Dale Beuning
Forums
Help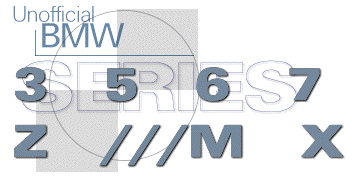 ---
---
From digest.v7.n1373 Tue Mar 24 12:05:25 1998
From: Aaron Buckley <abuck_at_us.ibm.com>
Date: Tue, 24 Mar 1998 06:56:48 -0500
Subject: Re: <E30>REPLY-1991 Overheating/Engine Loss

To whomever posted: <E30>REPLY-1991 Overheating/Engine Loss...
The numbers your mechanic told you are high. I have a '91 318is. You can get a completely rebuilt e30 M42 engine from Bavarian Auto Recycling for $2400. This includes the delivery and a 2 year/unlimited mile warranty. I checked into this about a month ago because my car has 125k on it, and I'm going to set it up as a track car and wanted to know what kind of $ it would take to replace a blown engine. A good/fair mechanic shouldn't charge you more than $500-700 to install it for you. BAR also told me that if there were any problems with the rebuilt engine, it can be worked on by MY mechanic at their cost to cover warranty issues. You should contact them or check out their website: http://www.bmrparts.com/.
As for the problem you reported, Ron is right on checking the faq on the profile gasket problem. Mine went at 76k and I was lucky to have a great mechanic (Ed Geiger for all you Tarheel Chapter members) who replaced it for $700, compared to the $1100 quote from the dealer. Hopefully it's the gasket... Feel free to contact me direct if you have any questions.
Aaron Buckley
BCCA Member 139801
Unofficial Homepages: [Home] [E12] [E24] [E28] [E30] [E34] [E36] [Z3] [E39] [E46] [X5/E53] [ALL] [ Help ]