Home
E12
E24
E28
E30
E34
E36
Z3
E39
E46
X5/E53
ALL
Ron Stygar
Carl Buckland
Dale Beuning
Forums
Help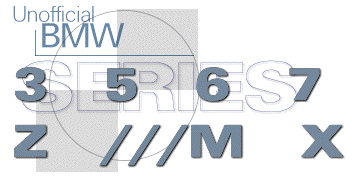 ---
---
From dale_at_unofficialbmw.com Mon Jul 15 20:18:08 1996
From: Dale Beuning <dale_at_unofficialbmw.com>
Subject: Re: <e30> Cooling system testing.
To: do_at_freenet.calgary.ab.ca (San Do)
Date: Mon, 15 Jul 1996 20:17:53 -0700 (PDT)
Cc: dale_at_unofficialbmw.com ()

>
> On Mon, 15 Jul 1996, Dale Beuning wrote:
>
> > Yes, water pumps are very common failure points.
>
> Yes, but the pump is still circulating the collant fine, it just seems as
> if it lost seals or something?comments?
That is how a water pump failes, the shaft seal dies then coolant leaks out the front from a "weep hole". The purpose of the weep hole is to prevent the coolant from getting to the shaft bearings. The coolant will trash the bearings and send the fan into your radiator.
> > What is the intermediate gasket?
>
> Hahaha. I laughed too when he said that but it is the bigger oil pan that
> the smaller one with the drain plug is attached to...
> It looks like the bolts go all the way to the back, but I'm gonna double
> echek with bentley...
I had the lower oil pan off once on my 318i, the upper oil pan didn't look like fun to try taking off. Yes the bolts do go all the way back.
Dale
> Thanks for the reply.
>
> San
>
--
---

                       |            Dale Beuning           |
                       |       email: dale_at_unofficialbmw.com     |
                       | web: http://www.unofficialbmw.com |
                        -----------------------------------

Unofficial Homepages: [Home] [E12] [E24] [E28] [E30] [E34] [E36] [Z3] [E39] [E46] [X5/E53] [ALL] [ Help ]