Home
E12
E24
E28
E30
E34
E36
Z3
E39
E46
X5/E53
ALL
Ron Stygar
Carl Buckland
Dale Beuning
Forums
Help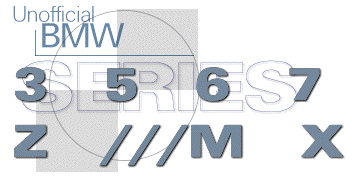 ---
---
From jnnt_at_one.net.au (John Tucek)
Date: Fri, 7 May 1999 18:56:28 -0700
From: jnnt_at_one.net.au
To: dale_at_unofficialbmw.com
Subject: <E30> Weird Wipers

The wipers on my '84 318i behaved as if possesed by gremlins. Their behaviour was so erratic that I couldn't even define the symptom. At times only one or two settings worked, at other times they would not work at all until a suitably large bump in the road made them spring into life.
I'd checked all the electrical connections for breaks and corrosion only to find them in exellent condition, eventually the only compnent left to check was the large wiper relay unit. It is easy to remove its cover, and on close inspection I discovered that almost all the solder joints that hold the connection pins had hairline cracks. The design of this relay is not good as the insertion force required to install the relay is taken up almost entirely by these solder joints. Also the amount of solder applied during manufacture is minimal for the task.
So out came my trusty soldering iron and I resoldered and built up adequate solder to all pins, ( being careful to keep each pin straight until the solder hardens) After reinstallation of the relay , my wipers now behave flawlessly.
Regards
John Tucek
Unofficial Homepages: [Home] [E12] [E24] [E28] [E30] [E34] [E36] [Z3] [E39] [E46] [X5/E53] [ALL] [ Help ]