Google Search

Search (Google!!)
Search Amazon.com
Home
E12
E24
E28
E30
E34
E36
Z3
E39
E46
X5/E53
ALL
Ron Stygar
Carl Buckland
Dale Beuning
Forums
Help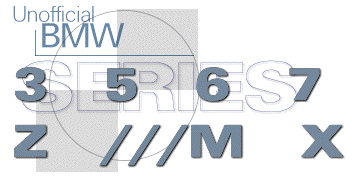 ---
---
From digest.v7.n407 Thu Oct 9 07:38:16 1997
From: HMechanic1_at_aol.com
Date: Thu, 9 Oct 1997 07:28:36 -0400 (EDT)
Subject: Re: E30 OBC

Scott wrote:
> Does anyone know if you can callibrate an E30 style OBC for different
> E30 models ? Basically I want to know if I have to find an M3 E30 OBC
> or whether I can get any E30 OBC and callibrate it or configure it for
> an M3.
>
Any E30 OBC will work, there is a coding plug on the back. For your M3, the code will be displayed if you press the 100 and the 1 button at the bottom of the unit together. The display will read 3 - 1.1 TYP. Just remove your coding plug and install into the new OBC. BTW, if you press the 1000 and the 1 buttons together, you will get the fuel remaining in liters.
Unofficial Homepages: [Home] [E12] [E24] [E28] [E30] [E34] [E36] [Z3] [E39] [E46] [X5/E53] [ALL] [ Help ]