Home
E12
E24
E28
E30
E34
E36
Z3
E39
E46
X5/E53
ALL
Ron Stygar
Carl Buckland
Dale Beuning
Forums
Help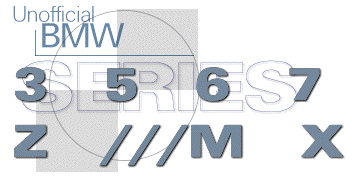 ---
---
From dale_at_unofficialbmw.com Fri Aug 9 12:44:49 1996
From: Dale Beuning <dale_at_unofficialbmw.com>
Subject: <E30> '89 325i Headlight bulb replacement
To: Chuck.Huston_at_csb.varian.com (Chuck Huston)
Date: Fri, 9 Aug 1996 12:44:11 -0700 (PDT)
Cc: bmw-digest_at_balltown.cma.com (BMW List),
dale_at_unofficialbmw.com ()

If you just need to replace the bulb, just pull the black plastic shield out from behind the headlights, give the bulb a 1/4 twist and it's out!. Insert new pulb using a cloth to prevent hand oil from getting on the halogen bulb, installation is the reverse. Takes me less than 5 minutes.
BTW My front left went out a week after the front right, so I'd change them both at the same time.
This only applys to '88-'89 E30's with elipsoidal(sp?) headlights, and may apply to E34's and E32's with similar headlights.
Dale
> Following the Bentley's manual, I found that you need to remove the front
> grill and
> take out the lens assembly to get at the bulb in the back...The grill was
> easy, but
> lens assembly removal was a nightmare! There are 3 plastic "clip
> thingys" that you are
> supposed to "heat with a heat gun" to allow you to "remove the lens
> assembly".
> Not at all easy, and I ended up trashing all 3 to get the assembly off so
> I could replace
> the bulb.
> Chuck Huston
> chuck.huston_at_csb.varian.com
--
---

                       |            Dale Beuning           |
                       |       email: dale_at_unofficialbmw.com     |
                       | web: http://www.unofficialbmw.com |
                        -----------------------------------

Unofficial Homepages: [Home] [E12] [E24] [E28] [E30] [E34] [E36] [Z3] [E39] [E46] [X5/E53] [ALL] [ Help ]