Home
E12
E24
E28
E30
E34
E36
Z3
E39
E46
X5/E53
ALL
Ron Stygar
Carl Buckland
Dale Beuning
Forums
Help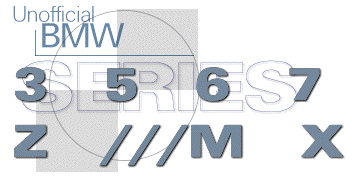 ---
---
From digest.v7.n1338 Wed Mar 18 17:46:56 1998
From: "Alan Alfano"<Alan.Alfano_at_SNET.com>
Date: Wed, 18 Mar 1998 16:24:42 -0400
Subject: Re: E30 DME Part number assistance

Rob,
I am a little confused about your Bosch and BMW part numbers.
I am looking at a BMW Aproved DME Code combination chart, IMHO it appears to be complete and accurate.
It documents DME Series: M1.1, M1.2, M1.3, M1.7, M3.1 for over 35 different DME part numbers.
All Bosch Part #s are at least in the 100s. Your 027 number does not make any sense.
For your car, it indicates:
Model - Eng Family - Eng Size / DME Series / Transmission / Variant Code / BMW Part # / Bosch Part #
325e - M20 - 2.7 / M1.1 / M / C81E / 1 722 220 / 0 261 200 154 325e - M20 - 2.7 / M1.1 / A / CA1E / 1 714 999 / 0 261 200 154
If you found a DME for a manual transmission, it could be changed to an automatic (and vice versa) up to 7 times using the BMW MODIC.
I can not impress to you the importance of the DME, it is the BRAIN of your car.
It is connected to an amazing number of sensors and circuits receiving input and creating output.
It monitors: air inlet temperature, air flow volume, present fuel rate output, the AC,
the evaporative purge value, the oxygen sensor, monitors which cylinder is firing, engine speed.
It controls: ignition timing, fuel injectors, idle speed, fuel cutoff for an eta engine
when over revved.
Your seller most likely has the best intentions, BUT where will they be if they are wrong and your motor goes kaboom or does not run right ?
The 027 DME appears to be an oddball.
A 325e is not is as rare as say a 2002 Turbo, so there are tons of used parts for it,
IMHO I would err on the side of caution / get peace of mind and get what BMW recommends.
Just my .02 cents.
Regards,
Alan Alfano
alan.alfano_at_snet.com
BMW CCA #30492
1988 BMW 325iX
1956 Austin-Healey 100M (2)
---
---
From: "Rob SHIVELY" <rob.shively_at_ccmail.adp.wisc.edu>
Subject: E30 Part number assistance
Date: Wed, 18 Mar 98 11:33:39 -0600

As part of my on going effort to cure my intermittent miss I plan to purchasing
a used Motronics ECU unit for my '84 325e. I have located a used ECU but now I
need to figure out if it will work in my car. The seller provided me with a
Bosch parts number but my friend at the BMW dealership can not a find a cross
reference for it . I am hoping someone out there has an older parts list and
can help me out.

The Bosch part number in question is 0 261 200 027. The BMW parts guy thinks
the number is for a euro model and has a superseded BMW part number of 1 214 170 8643. The BMW part number for a US Motronics ECU is 1 214 146 6078. My
question is: will this Motronics ECU work correctly in my '84 325e?

As always thanks in advance for the help. Rob Shively
'84 325e
'73 tii

Unofficial Homepages: [Home] [E12] [E24] [E28] [E30] [E34] [E36] [Z3] [E39] [E46] [X5/E53] [ALL] [ Help ]