Home
E12
E24
E28
E30
E34
E36
Z3
E39
E46
X5/E53
ALL
Ron Stygar
Carl Buckland
Dale Beuning
Forums
Help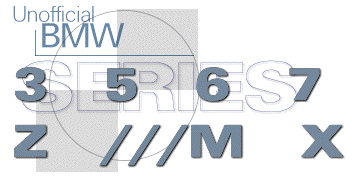 ---
---
From digest.v6.n468 Wed Apr 2 12:04:41 1997
From: Christopher Pawlowicz <chrisp_at_doe.carleton.ca>
Date: Wed, 02 Apr 1997 10:06:40 -0500
Subject: chip

E30 325 - to check/access the chip:
open glovebox and undo straps, lower door all the way to floor unscrew 4 screws (?) holding trim at top of glovebox and remove (make sure battery is disconnected)
you will see an aluminum box mounted - unbolt 4 bolts and undo connector
flip the box on it's back - pry the metal tabs all around the edges of the box (don't undo any screws! they don't hold the box together) the tabs sometimes break. nothing you can do about it. oh well.
pull off bottom of box. Look at circuit board (don't touch! unless you are properly grounded). *One* chip is not soldered in but pushed into a carrier. If it is BMW OEM it will just have a bunch of numbers on it.. If it says DINAN or something, well, it's probably from them :)
Hopefully it says Jim Conforti :)
chris pawlowicz
'89 325i - wow, those snow tires really *scream* when pushed on dry pavement
Unofficial Homepages: [Home] [E12] [E24] [E28] [E30] [E34] [E36] [Z3] [E39] [E46] [X5/E53] [ALL] [ Help ]