Google Search

Search (Google!!)
Search Amazon.com
Home
E12
E24
E28
E30
E34
E36
Z3
E39
E46
X5/E53
ALL
Ron Stygar
Carl Buckland
Dale Beuning
Forums
Help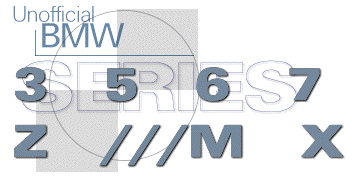 ---
---
From digest.v6.n713 Fri May 30 14:42:38 1997
From: Aaron Buckley <abuck_at_us.ibm.com>
Date: Thu, 29 May 1997 15:21:38 -0400
Subject: Re: E30 Wiring Info

Anthony,
About a week ago, I installed a factory E30 alarm in my '91 318is. To put it plainly, it wasn't a fun job. It works perfect, but it took a long time due to
primitive instructions. Anyway, I have some info that will be helpful:
Leads to Central Locking Unit are Brown with a red stripe and Brown for ground.
The ignition wire is hot wire is located on a plug on the underside of the steering column. The plug is actually 3 plugs integrated into one. The main plug unclips from the steering column, and when you separate the 3 smaller plugs, it's the only red 8 gauge wire. It goes straight through the firewall to the fusebox.
From the way I understand the door trigger, if you connect your door lead from the alarm and splice in the original brown/violet door lead, when the door opens, this the original lead sends power to the interior lights.. thus completing a circuit and setting off the alarm. It all depends on what brand alarm you have though... If you have any other questions, you can write me at Abuck_at_us.ibm.com.

Good Luck,

Aaron Buckley
As in life... Go Bavarian!!
Life is hard... Drive hard..
Unofficial Homepages: [Home] [E12] [E24] [E28] [E30] [E34] [E36] [Z3] [E39] [E46] [X5/E53] [ALL] [ Help ]