Google Search

Search (Google!!)
Search Amazon.com
Home
E12
E24
E28
E30
E34
E36
Z3
E39
E46
X5/E53
ALL
Ron Stygar
Carl Buckland
Dale Beuning
Forums
Help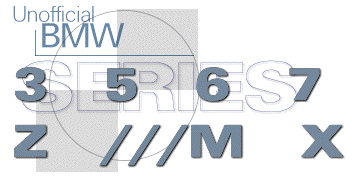 ---
---
From digest.v7.n1360 Mon Mar 23 03:51:34 1998
From: Joel <Zeitguy_at_zeit.com>
Date: Sat, 21 Mar 1998 23:41:05 -0700
Subject: Re <E30> Wub wub wub

John,
Sometimes the metal around the center bearing gets bent and rubs on the rubber causing a wub wub wub sound, only audible at low speeds, or at least that was the case on my friends '88 325is.
Solution?
Buy and install a new center bearing, or for the financially challenged, spray W-D 40 on it every time you're under the car. His is still running 3 years later.... wub wub wub.... From: "John C. Hanes" <jchanes_at_eden.rutgers.edu>
Date: Fri, 20 Mar 1998 10:40:26 -0500 (EST)
Subject: <E30> Wub wub
Hello,
I've got this road speed-dependent "wub-wub-wub" sound coming from I believe the rear of my 1986 325es 150k. The rear bearings were replaced about 30k ago, but other than that not much has been worked on back there.
The diff leaks at the flanges, but slowly. Any ideas what to look at? Bearings? CV joints? E-brake? Wheel out of round? I'm not sure what common
problem areas there are. Oh yeah, and it's semi-intermittent, meaning sometimes it's not there (or at least I can't hear it), but it IS there about 85-90% of the time. I'd appreciate any ideas, and many many thanks
in advance.
John C. Hanes
1986 325es 150k JC/K&N/Bilstein/PBR
Cook Campus, Rutgers University
New Brunswick, New Jersey
NJ BMWCCA #149905
Joel Marion, Principal
Zeitgeist Artifacts
http://www.zeit.com/
916.682.9577 Voice
916.682.8953 Fax
---
Unofficial Homepages: [Home] [E12] [E24] [E28] [E30] [E34] [E36] [Z3] [E39] [E46] [X5/E53] [ALL] [ Help ]