Home
E12
E24
E28
E30
E34
E36
Z3
E39
E46
X5/E53
ALL
Ron Stygar
Carl Buckland
Dale Beuning
Forums
Help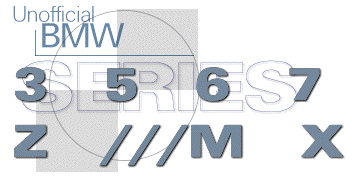 ---
---
From Yello911_at_aol.com Fri Oct 18 14:17:55 1996
Date: Fri, 18 Oct 1996 17:17:01 -0400
To: dale_at_unofficialbmw.com
Subject: My 325is problem and question
Dear sir:
I have a 1987 325is with 111,000 miles on it. I have had the car about 4,000 miles. When I bought the car, it had the factory 14" rims with pirelli 185/60/14 on it. The steering wheel vibrated, shook, shimmyed, left and right between 50mph and 60 mph. So I had the tires balanced. It remained present. I bought new wheels and Tires. 16 inch TSW Stealth wheels with 205/50/16 tires. The problem persisted. Between 50 and 60 miles per hour, the steering wheel shook. Additionally, the car would start to vibrate from the rear between 80mph and 100mph. I ordered another set of new wheels and tires. TSW Hockenheirm R 15X7 with 205/50/15. The car did the exact same thing. at the exact same speeds. So I have been told to have the wheels and tires balanced on the car, which I intend to do. Have you ever heard of this problem before? My mechanic checked out all the suspension pieces, bushings, swaybars, shocks, springs (Dinan stage I stuff) and they looked fine. Any suggestions. Even if I do get the front end to stop shaking, the rear can't be balanced on the car. Help!!
[...]
Thanks for any help.
David G.
---
Hi,
It sounds to me like the rotors may be out of balance. To cure this you may have to replace them with factory original BMW rotors, BMW balances the rotors, I don't know if anyone else does. Also you could try mounting the tires differently, remove the wheel/tire, turn 1/4 turn and reinstall. I'm only talking about rotating the tire on the hub, not dismounting the tire from the rim. Try this then go for a test drive, see if vibration is better/worse, keep a log of your results.
How experienced with BMWs is your mechanic? The control arm bushings need to be replaced every 100k or so and one of the major symptoms is the vibration problems you are describing. Also shocks, if the shocks are not replaced every 100k, you are asking for trouble. And it can lead to problems. How long ago was the Dinan equipment installed?
hope this helps
Dale
'89 325i
'86 325es
'84 318i (sold...)
---

                       |            Dale Beuning           |
                       |       email: dale_at_unofficialbmw.com     |
                       | web: http://www.unofficialbmw.com |
                        -----------------------------------

---
From Yello911_at_aol.com Sat Oct 19 14:07:09 1996
Date: Sat, 19 Oct 1996 17:06:37 -0400
To: dale_at_unofficialbmw.com
Subject: extra set of wheels
Dear Dale,
Thank you so much for your prompt response. These rotors have a questionable history. They may or may not have come off this car, and put back on this car. The last owner had cross-drilled ones on it but put them on the 89 325is Dinan Turbo he bought. So these rotors might have come off that car. And were not marked as to which side or front to rear they belong (if it even matters). But on Monday, I''ll order some rotors and pads. I'll have something to do next weekend.
The suspension had Dinan front and rear swaybars on it, but they went on the turbo before I bought it. The last owner had Eibach springs on the car, but put them on the turbo and put the Dinan springs on this car in Jan. 96. So the suspension work is recent. The shocks are Bilstiens valved by Dinan and have less than 10K miles. I am just going to have to sort out all these problems before I do any track events. It will take time, but I' m sure it will be worth it. The car pulls nicely to 145mph. Where drag limits its speed, I think.
The extra set of wheels and tires are not available. They are 16 X 7.5 TSW Stealth, like I said, but in assessing why the car shook at speeds, I took them to a place to computer balance them. They found that two were not "true", completely round. They looked great on the car. The style is the new 318ti Sport wheel, but the quality just wasn't there. The Hockenheirm R we found out were perfect. The same place put them on the machine and they proved to be of a higher quality. Both are made in S. Africa and I got them from Motorsport Design in San Antonio Texas. Billy Mitchell was my salesman. He was most helpful allowing me to swap out the 16" with 15". Phone number is 210-366-3636. the 16" wheels were about $1300 mounted and balance. The 15" were 1250 mounted and balanced. Locally, they would have been about $2000. It was a big savings. I still have the factory 14" which I'm going to put track tires on when the day comes.
Well, thank you for your help and I'll keep you posted.
---
From Yello911_at_aol.com Tue Oct 29 10:44:58 1996
Date: Tue, 29 Oct 1996 13:42:41 -0500
To: dale_at_unofficialbmw.com (dalebeuning)
Subject: The result
Dear Dale,
It was the rotors. They had a dubious history and when they got removed and the new ones were put on, the problem went away. Store this info in a safe place. I hope it is useful to other BMW owners.
[...]
Anyway the car is much more enjoyable now. Thanks.
David
Unofficial Homepages: [Home] [E12] [E24] [E28] [E30] [E34] [E36] [Z3] [E39] [E46] [X5/E53] [ALL] [ Help ]