Home
E12
E24
E28
E30
E34
E36
Z3
E39
E46
X5/E53
ALL
Ron Stygar
Carl Buckland
Dale Beuning
Forums
Help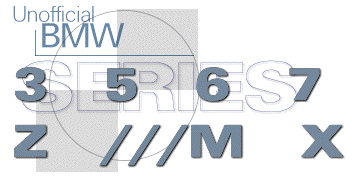 ---
---
From digest.v6.n885 Tue Jul 15 19:40:50 1997
From: ingraham_at_sunspot.ssl.berkeley.edu (Curtis A. Ingraham)
Date: Tue, 15 Jul 1997 14:28:44 -0700
Subject: <E30> Squealing Metalmaster Brakes

In v06.n879 Mo Fares <MXFares_at_LeggMason.com> wrote:
> Anyone have a cure for squealing metalmaster brake pads on
> [1990] E30 325is?
Go to a NAPA auto parts store and get one each:
SH-9124 brake shim set, front USD 3.95 SH-9103 brake shim set, rear USD 3.10
(Those numbers are for an '89 325is -- probably the same for a '90). Put those anti-squeal shims between the pads and the calipers. They should help, and they're cheap and easy, but there's no guarantee.
Curt Ingraham
Unofficial Homepages: [Home] [E12] [E24] [E28] [E30] [E34] [E36] [Z3] [E39] [E46] [X5/E53] [ALL] [ Help ]