Google Search

Search (Google!!)
Search Amazon.com
Home
E12
E24
E28
E30
E34
E36
Z3
E39
E46
X5/E53
ALL
Ron Stygar
Carl Buckland
Dale Beuning
Forums
Help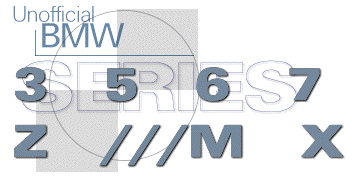 ---
---
From digest.v4.n854 Wed Jul 17 20:51:22 1996
From: bmrfamly_at_nwlink.com (marilyn, dan, phillip patzer)
Date: Wed, 17 Jul 1996 18:37:00 -0800
Subject: Brake Resevoir O-Ring & Grommets to Master Cylinder

Gentlemen
I just had a customer with no fluid in the front half of her Brake Fluid resevoir. The "Fluid Level Light" was on steady now. It blinked for a couple of days. When the pedal started feeling "ICKY" she called me. The Grommets sealing the resevoir to the Brake master cylinder on her '86' 735i had softened, enlarged and popped. Not the normal item on top of an inspection list. But the flattened "O-Ring" inside the cap of the resevoir is easy to inspect. Hers "mushroomed" out of the bottle as I backed the cap off, and I could not get it back inside the cap due to the new size.
It also felt very soft and spongy.
Something other than the correct brake fluid had been used at some time. If you see poor fitting brake resevoir "O-Rings", pull the bottle off the Master and check the condition of the grommets. They are individually available from the dealer.
Dan Patzer BIMMERS ONLY
Unofficial Homepages: [Home] [E12] [E24] [E28] [E30] [E34] [E36] [Z3] [E39] [E46] [X5/E53] [ALL] [ Help ]