Home
E12
E24
E28
E30
E34
E36
Z3
E39
E46
X5/E53
ALL
Ron Stygar
Carl Buckland
Dale Beuning
Forums
Help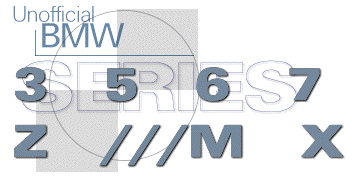 ---
---
From digest.v7.n198 Sat Aug 30 23:07:09 1997
From: "Jacob J. Steijn" <Jacob.Steijn_at_dol.net>
Date: Sat, 30 Aug 1997 19:52:31 -0400
Subject: !!Urgent, Please Read!! <E28> Re: E28 Steering

Derek,
Have you taken a close look at the steering box mount lately? A "clunk" in the steering is a clue that the mount may be broken. This is a common and potentially very dangerous tendency in these cars.
The problem (as described several times previously in the Digest) is the welded-on sheet metal "U" bracket to which the box is bolted. This part is welded to the top of the subframe. It appears to be intended to provide "roll" support - it is not the only support but it is locate so as to prevent motion in the axis from front to back of the car. Anyway, it breaks. As in off! Mine was, and several others have reported this also. CHECK IT NOW!!!! (no apologies to anyone). Easiest to see from under the car looking up.
I fixed mine by running a 7/16 x 6" bolt up through the subframe - there is a very conveniently located through-hole which allows access to the bolt-head - I used several washers to take up space and span the hole in the subframe.
Have you checked out Steve Bernstein's E28 Brake FAQ? It has lots of good info on diagnosing and fixing shimmy.
Jacob J. Steijn '88 M5
BMW CCA 135150
Jacob.Steijn_at_dol.net
302.475.5908
Unofficial Homepages: [Home] [E12] [E24] [E28] [E30] [E34] [E36] [Z3] [E39] [E46] [X5/E53] [ALL] [ Help ]