Home
E12
E24
E28
E30
E34
E36
Z3
E39
E46
X5/E53
ALL
Ron Stygar
Carl Buckland
Dale Beuning
Forums
Help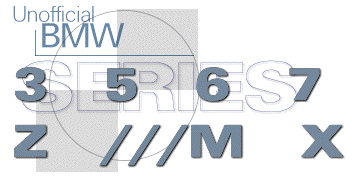 ---
Date: Fri, 29 Dec 1995 13:01:20 -0500
From: read_at_engr05.comsys.rockwell.com (Pete Read)
To: jrallen_at_halcyon.com, hrl_at_whoops.cray.com Subject: Re: M5 Suspension, Load Level Parts

Henry Lucenius asks about load leveling parts: >Load level elimination kit $ 63 (Stock BMW parts)
>Where did you order this kit from or was each part (listed
>in M-digest post) ordered separately ?
Henry,
I purchased all the BMW parts separately from Eurasian Auto with the Bilstein Sport shocks order. For BMW parts only, I usually call Mark at Bekkers Import 800.624-5410 (ext 11 for Mark). Prices are good and Mark is a member of the M-register (highly modified M6).
BMW Tech Rep Rick Stormer 407.770-1074 gave me the list of load level elimination parts. His list included eight part numbers, but he said one (he couldn't remember which) isn't needed.
The 5-series E28 parts fiche agreed with his numbers, so I ordered all eight. His memory was correct. It turns out that only seven are needed. The extra part is noted (*) below.

                                   Parts Fiche
Quan Part Number   Description     Item Number    Cost
---- ------------- --------------- ------------- -----
 2   33521 124 572 Spring Pad           14        6.08
 2   33521 124 507 Spring Pad            3        4.58
 2   33521 124 575 Protection tube      12        3.06
 2   33521 124 573 Adsorber             11       17.72 
 2   33521 126 680 Guide Support         4       26.24
 2   33521 125 651 Washer                8        3.24
 2   33521 125 649 Support Cup           2        2.02
                                                 -----
                                                $62.94 total

Note 33521 117 676 Rubber Mount Item 7 is not needed -- it's included with 33521 126 680 Item 4 guide support
Hope this helps,
Pete Read
Unofficial Homepages: [Home] [E12] [E24] [E28] [E30] [E34] [E36] [Z3] [E39] [E46] [X5/E53] [ALL] [ Help ]