Google Search

Search (Google!!)
Search Amazon.com
Home
E12
E24
E28
E30
E34
E36
Z3
E39
E46
X5/E53
ALL
Ron Stygar
Carl Buckland
Dale Beuning
Forums
Help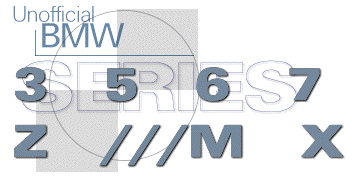 ---
From digest.v7.n233 Sun Sep 7 21:03:55 1997
From: Jim Cash <j.cash_at_sympatico.ca>
Date: Sun, 07 Sep 1997 13:21:53 -0400
Subject: E28 (528ea) - 14 Years Experience - Modifications


E28 FANS - MODIFICATIONS

Iím new to the digest and see quite a few questions about E28ís. I had a 528ea for 14 yrs & 280,000km. Bought it new in 1982 and traded it last year for an E39 540ia.

For your interest I made the following modifications. If you are comfortable with wiring modifications, relays, and using diodes to prevent unwanted electrical "back-flows", then you can achieve many customised features.In most cases you need electrical schematics.
At this date your dealers "might" let you borrow/copy the "electrical trouble shooting manual".
Cibie quartz headlights - Best safety upgrade you can make. You will never use sealed beams again. Low beam "pattern" is almost as good as the Xenonís on my E39 - just not as bright. No wiring changes required. I prefered Cibie's but other brands are available. For the high beams I chose the long range units (part no 57-30-02 - this might be an old number). They have a specified range of 8,600 ft - IF YOU USE THESE YOU DO HAVE TO ADOPT A NEW APPROACH TO USE OF HIGH BEAMS - YOU MUST DIP THEM MUCH EARLIER THAN NORMAL TO PREVENT ANNOYING OTHERS. But the better low beams make up for it. One thing you will notice with the lows is that they have a high portion to the right - designed to light up signs on the side of the road. This is great but will also shine in the door mirror of cars you are passing - SO MAKE SURE YOU DO NOT LINGER BESIDE SOMEONE ON A MULTI LANE HIGHWAY (another good reason to not sit in someone's blind spot).
Wire front fogs, with ignition, as Daytime Running Lights. Can use low beamís instead if preferred. Must wire before the switch.
Activate rear fogs as per Euro standard

- second position on foglight switch.
- used "unused" wiring to trunk, extended to rear lights & inserted bulbs and sockets.
- installed bulb & wiring for dash indicator.

Rewire front/side marker lights to double as side turn signals. They still operate as side markers but flash with the turn signals. ( for cars before this was provided )
Garage Door Opener(s) To hide garage door opener(s) remove circuit board from itís case and solder a wire across contacts that normally make when you push the button. Splice the battery wire and extend to where you mount the switch. Wire the switch in series with the battery. I wrapped my 2 circuit boards in a cloth, tucked them in the front of the vent, just below the grill on top of the dash (donít block movement of the vent arm), drilled a hole in the vent bottom, and threaded the wire down to the right of the radio. I got a window switch, to operate the 2 openers, and put it in the blank location to the right of the radio. You can put the battery anywhere as long as you extend the wiring, or, use car power & a voltage reducer so unit only gets 9 volts.
Audible alarm for - low fuel, oil pressure, high temp.

door open (transmission in drive)

Additional dash indicatorís - door open

doors locked/unlocked
cruse control active Items 6 & 7 require connections to several circuits, and extensive surgery to the interior of the instrument cluster - lots of diodes, some LEDís etc. To get a high temperature alarm and light you can connect to the high temperate fan relay at the fuse box.

Floor courtesy lights. Rears are mounted through the carpet & metal panel that supports seat bottom. (lift rear seat bottom and youíll find a whole area where you can store stuff - I never did reuse the mounting bolt)
Interior lights activated by drivers door handle. (for cars before this was provided)
LED lighting for overhead light switches.
LED lighting for window controls on console.
Additional trunk lighting, with cut-out switch.
Toggle switch on console for central locking.
Auxiliary power for sun roof (push button beside sunroof switch

- powers the sunroof without using the key - must hold push button for safety).

Auxiliary power for windows (push button on console - powers the window relay so windows can be operated without the key.
To obtain better interior temperature control I installed a plastic extension tube over the intake of the temperature sensor (above drivers feet), and routed this to the grill in the centre console

to pick up air from the centre of the car rather than the foot area where hot air discharges. Interior air is pulled over this sensor by a small vacuum tube from the engine. I sealed one end of the tube, cut a small hole in the side and glued the tube to the sensor, with the new hole over the sensor intake.
NOTE - LEDís use 1-2 volts. To use in a 12 volt circuit you need a 1000 ohm resister in series with each LED. Remember LEDís are diodes - and must be wired with correct polarity.
In some cases I provided details, but for others you will probably need the
schematics.
If you would like me a detailed write up, and copy of the wiring diagram for any of these mods then please email me. If I still have the information for the mod you want I will let you know, and ask for a small advance fee for my time etc. ($25-$50 depending on amount of information you want).
Note - I am not running this as a business, or actively seeking requests.
Cheers
Jim Cash
London Ontario, Canada
519-657-4839 - j.cash_at_sympatico.ca
current 97 540ia
Unofficial Homepages: [Home] [E12] [E24] [E28] [E30] [E34] [E36] [Z3] [E39] [E46] [X5/E53] [ALL] [ Help ]