Home
E12
E24
E28
E30
E34
E36
Z3
E39
E46
X5/E53
ALL
Ron Stygar
Carl Buckland
Dale Beuning
Forums
Help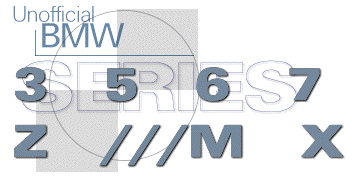 ---
Date: Mon, 19 Feb 1996 10:10:36 -0500
From: read_at_engr05.comsys.rockwell.com (Pete Read)
To: jrallen_at_halcyon.com, pfhahn_at_aol.com Subject: Re: Tools (plug wrench, starter, front hub)

Paul Hahn, as usual, makes some good points.
Spark Plug Wrench
Until Paul mentioned it, I never had even looked at the tool kit spark plug wrench. It's pretty nice. The plug wrench expands (to 11 inches) for the long reach and has a nice spring clip to prevent the plug from dropping out.
Griot's Garage 800.345-5789 sold me an 18mm thin-walled magnetic plug wrench that works. The set also included the other most common plug wrench sizes (16mm or 5/8in and 20.8mm or 13/16in). Griot's most recent catalog doesn't list the set I bought though (USAG 279381).
Europroducts 800.850-0325 has an M3/5/6 magnetic spark plug socket advertised in the latest Roundel for $26.50. They also have M valve tappet depressing tools for $69.
Because the plug wrench is such a tight fit, the critical dimension is the outer diameter. I measured both the tool kit plug wrench and the magnetic plug wrench I've used -- both were 23mm OD. A plug wrench any larger diameter probably won't work.
Starter Bolt Wrench
Paul mentioned that he used a box-end Snap-On wrench for the starter bolts where I used a special 17mm u-shaped obstruction wrench. First I agree that Snap-On wrenches are wonderful tools. They are thinner and fit places where sometimes Sears Craftsman won't. I have a couple of Snap-On tools plus a set of Mac Tool metric swivel head wrenches (25 years now). But I have to admit that most of my hand tools are Sears Craftsman. Not nearly as nice, but they are a lot cheaper and Sears stores are generally easier to find than Snap-On or Mac Tool trucks when something breaks. Plus if I don't see the Snap-On truck, I'm not tempted. Of course I've never broken a Snap-On or Mac Tool, while a number of Craftsmen tools have failed (mostly when abused).
However, I'm puzzled by the starter bolt wrench comment. Tell me if I'm doing something wrong. My 17mm Craftsman box end wrench fits over the inside (next to the block) starter bolt, but the throttle intake is in the way -- there is no room to swing the wrench. If the intakes are removed at the head, there certainly is room to swing the wrench, but I removed the intake plenum at the throats just before the throttle plates. Are you saying a straight 17mm Snap-On wrench can be used without removing the complete intake system?
Front Hub Nut Wrench
I'm thinking about pulling my front hubs to remove the splash shields for more brake cooling. Paul, where did you find a socket large enough when you changed your wheel bearings -- isn't it something like 46mm?
Thanks for the info,
Pete Read
'88 M5
Unofficial Homepages: [Home] [E12] [E24] [E28] [E30] [E34] [E36] [Z3] [E39] [E46] [X5/E53] [ALL] [ Help ]