Google Search

Search (Google!!)
Search Amazon.com
Home
E12
E24
E28
E30
E34
E36
Z3
E39
E46
X5/E53
ALL
Ron Stygar
Carl Buckland
Dale Beuning
Forums
Help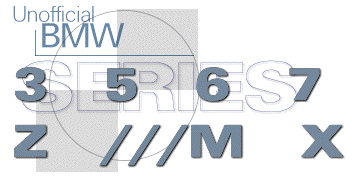 ---
From digest.v7.n1886 Tue Jun 16 17:48:57 1998
From: "Rob Levinson" <always_coca-cola_at_msn.com>
Date: Tue, 16 Jun 1998 17:15:57 -0400
Subject: <E28> "The Full Euro" **Rob


It's finally done! I got my '85 535i back from the bodyshop last night after installing the complete Euro bumper set (purchased from Steve D'Geralomo, www.ultimategarage.com).

I'm very happy with the look, no more "picnic table" bumpers and it now sports flush turn signals and fog lights in the valance. The car looks ten years newer... well, at least updated! It's amazing that the US market happily suffered with the "loading platforms" when the ROW got these beauties.

It's not all peaches and cream, though...

NEGATIVES:
Installation was a bitch-kitty.

Something has to be done about the

big holes left by removing the rear bumper absorbers and side-lights.

The front frame rails had to be shortened

slightly and custom mounts fabricated.

The front parking lights have to be modified

to act as turn signals also - Euro cars have an additional light in the fender. (modified by me with 733i parts!)

Expensive install - fix tiny rust holes hiding

under old rear bumper, remove little brackets at rear, paint new front valance and old rear valance, fabricate front brackets, etc.

Impact protection - now next to nil!
Replacement parts in case of damage will be expensive.
POSITIVES:
Looks great!
Looks great!
Looks great!
I misplaced the numbers, but I think there's about a 25lb+ savings at each end of the car.
Real BMW parts - no flimsy fiberglass.
Continues "stealth" look - no wild body kit, it looks "better" without looking "done" or "pimped"... real Bimwads recognize it.
Looks great!
This project was a result of a minor accident the car suffered close to three months ago - it was hit at the corner, ripping the bumper off without any body damage. The costs escalated a bit further than I anticipated once the need for custom work was realized. The parts cost around $1125 (all brand new BMW parts) and the installation went way up from the first-quoted $275 to $925. This whole upgrade cost me a whopping $2050 (I recovered $1700 from the insurance company), and had I realized that before starting, I might not have done it. But now it is done, and I couldn't be happier with the results!
I did the Euro big/little lights two months ago... the car now has "the full Euro" appearance.
I will be updating the car's web page soon with pictures! http://www.bubbaclub.com/rob/callaway.htm
- Rob Levinson '85 535i Turbo
Unofficial Homepages: [Home] [E12] [E24] [E28] [E30] [E34] [E36] [Z3] [E39] [E46] [X5/E53] [ALL] [ Help ]