Google Search

Search (Google!!)
Search Amazon.com
Home
E12
E24
E28
E30
E34
E36
Z3
E39
E46
X5/E53
ALL
Ron Stygar
Carl Buckland
Dale Beuning
Forums
Help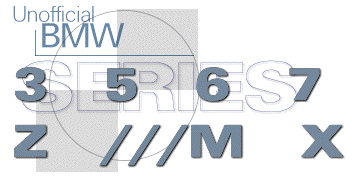 ---
From digest.v7.n227 Fri Sep 5 20:20:08 1997
From: Andrej Gaspari <aeg_at_computer.net>
Date: Fri, 05 Sep 1997 17:18:25 -0400
Subject: <E28> Common oil leaks


> my '88 535i is leaking a bit of oil. I haven't tracked down the place from where it leaks.
>
> Could you please share your experience with me about common oil leaks and possible fixes
> for the M 30 engine and/or the transmission ?

Well, in my experience, it might be any or all of the following:
-Oil pressure sender. In the rear of the cylinder head. Leaks and the oil ends up coming down the back of the engine. Easy fix - get a new one.
-Rocker shaft end seal cover plate (or something like that...) Plate held on by 6 bolts on the back of the cylinder head. Real PITA to get at, unless you have very small and limber hands. Both the gasket and the fat rubber-filled washer on one of the bolts leak.
-Head gasket. These seep a good bit. Not much to do but replace it. Probably not worth it for a little oil.
-Valve cover gasket. Same seepage as the head gasket, made worse if the cam cover has been off for valve adjustment (or whatever) and the gasket reused. Easy to replace - I just did mine today.
Of course, there are other possibilities, but these are the more common ones. Good luck.
Just because you're not paranoid doesn't mean they're not out to get you.
Encrypted mail preferred: mailto:aeg_at_computer.net PGP public key available at: http://www.pgp.com/keyserver/pks-toplev.cgi
Unofficial Homepages: [Home] [E12] [E24] [E28] [E30] [E34] [E36] [Z3] [E39] [E46] [X5/E53] [ALL] [ Help ]