Home
E12
E24
E28
E30
E34
E36
Z3
E39
E46
X5/E53
ALL
Ron Stygar
Carl Buckland
Dale Beuning
Forums
Help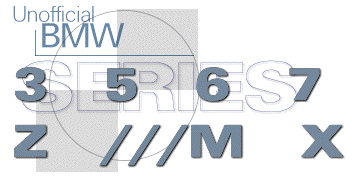 ---
Date: Thu, 15 Feb 1996 16:21:18 -0500
From: read_at_engr05.comsys.rockwell.com (Pete Read)
To: jrallen_at_halcyon.com
Subject: E28 M5 Starter Replacement


Here's how to change an E28 M5 starter -- I did mine yesterday. The starter itself is the same part as a regular E28 535i, but different things are in the way on the M5 engine.
Disconnect battery.
Remove air flow meter boot from driver side of intake plenum

(hose clamps).

Disconnect small hose between the bottom of plenum and the

crankcase near the oil dipstick (hose clamp).

Disconnect two hoses on passenger side of intake plenum

(hose clamps).

Remove twelve cap nuts and washers from intake throats

(10 mm wrench).

Unclip plastic holders at ends of throttle cables.
Pull intake plenum out without disturbing the six rubber boots

on the passenger side of plenum.

Starter is now in plain view. Cut the two cable ties which

hold the starter solenoid rubber cover.

Remove cables from starter (13 mm wrench).
Hardest part -- it takes a while and needs a special wrench

because there is no room for a normal straight wrench or socket. Remove two starter motor bolts with a special u-shaped 17 mm obstruction wrench (also called starter or half-moon wrench). It's tough to find these wrenches in metric sizes. Try Snap-on, Mac Tools, or Griot's Garage. Sears only has them in inch sizes.

Assembly is the reverse ... two new cable ties needed for the

starter solenoid rubber cover.
Part Number Description Price
---
12-41-1-466-093 Remanufactured Starter $134

Refundable core charge $ 30

    07-11-9-924-324  Cap Nut M6               $  2.82
    07-11-9-931-639  6.4 Flat Washer          $  0.62

The cap nut and flat washer are from the intake throats. I seem to lose one each time the intake plenum comes off.
Good Luck,
Pete Read
'88 M5
Unofficial Homepages: [Home] [E12] [E24] [E28] [E30] [E34] [E36] [Z3] [E39] [E46] [X5/E53] [ALL] [ Help ]