Home
E12
E24
E28
E30
E34
E36
Z3
E39
E46
X5/E53
ALL
Ron Stygar
Carl Buckland
Dale Beuning
Forums
Help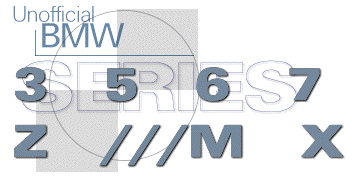 ---
From digest.v7.n153 Thu Aug 21 21:08:04 1997
From: Kevin Sullivan <Kevin_Sullivan_at_geoworks.com>
Date: Thu, 21 Aug 1997 17:52:54 -0700 (PDT)
Subject: Re: bmw-digest V7 #152 (fwd)


I was looking through the NHTSA recall notices for '87 535is, as I also have one and discovered this notice regarding sticking brake lights. Maybe it is what is ailing your car. I suppose you could go to your local BMW dealer and have them look up your cars VIN number and see if the defective brake light switch has been replaced.

Good Luck,

Kevin Sullivan
87 535is
---

                     NHTSA CAMPAIGN ID Number: 86V151000
                      Component: BRAKES:HYDRAULIC:SWITCH:BRAKE LIGHT
                      Manufacturer: BAYERISCHE MOTOREN WERKE

Year: 1987
Make: BMW
Model: 535
Year of Recall: '86
Type of Report: Vehicle
Potential Number of Units Affected: 97,300 Summary:
BRAKE LIGHT SWITCH COULD OVERHEAT, EVENTUALLY LEADING TO MELTING OF PLASTIC INTERNAL PARTS IN AREA OF ELECTRICAL CONTACTS.
CONSEQUENCE OF DEFECT: SWITCH PLUNGER COULD JAM, RENDERING BRAKE LIGHTS EITHER
INOPERATIVE OR CONTINUOUSLY ILLIMINATED, REGARDLESS OF BRAKE PEDAL OPERATION.
REPLACE BRAKE LIGHT SWITCH WITH REVISED SWITCH WITH INCREASED ELECTRICAL LOAD CAPACITY.
SYSTEM: BRAKE LIGHT SWITCH.
VEHICLE DESCRIPTION: PASSENGER CARS WITH HIGH BRAKE LIGHTS.
For more information on recalls goto:
http://www.nhtsa.dot.gov/cars/problems/recalls/mmy.cfm
---
From: ThorfinnXX_at_aol.com
Date: Thu, 21 Aug 1997 16:17:44 -0400 (EDT)
Subject: Help! E28 Brakelights stick....

My '87 535is's brakelights will stay on when the brake pedal is released...at night, I can see the middle light stay on, and I can tap on the brake pedal (sometimes multiple times) and the light will come off. During the day, if I
look at the computer readout, the intensity lessens as the brakelight comes on, and if I tap the pedal until the intensity increases, I know my brake lights are off. Obviously, I'm tired of tapping. When the brake pedal is depressed, the radio will either die out for a couple of seconds, or no affect will be seen. (Another problem?) I also have the front shudder when braking, (which I understand the fix for) though the brakes seem to work fine. The Brake light warning on the ceiling of the car comes on when I initially start, but it goes off the first time I hit the brake. Finally, it's worse on cold, wet days, at times, even difficult to get the light off....I'd appreciate any help as I'm a poor college boy that fortunately is good with a wrench......