Home
E12
E24
E28
E30
E34
E36
Z3
E39
E46
X5/E53
ALL
Ron Stygar
Carl Buckland
Dale Beuning
Forums
Help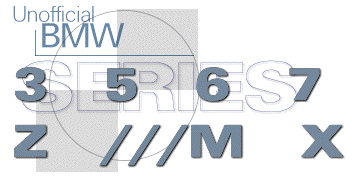 ---
Subject: Re: TRX vs after market tires
---
Posted by Cliff Robb on September 17, 1997 at 10:10:35:
In Reply to: TRX vs after market tires posted by Chester Siembab on September 16, 1997 at 18:04:56:
: My '85 still has TRX tires on a stock rims. Is is worth to spend the money (since I already spent a lot on shocks and springs..)and go for aftermarket tires/wheels? What should I get? What size?. New or used?, Anybody knows about good deals?
ChesterTRX
metric diameter tires are a dying breed. Michelin attepted to standardize tire sizig by switching to metric diameters to match the metric tread widths we already use. It never caught on, & I don't think Michelin has ever come out with updated tires in metric diameters. So you would be buying old technology, but it would be cheaper that upgrading to a new rim/tire combo. There would be major improvement available though from a new rim/tire set up. Most of the info. at this site is on E12's. Since your car is an E28, there is more variety available for aftermarket rims. I think you could go as big as 17". There is a post on this BBS from 6/11/97 with several responses you may want to look at. I like Troy Rudolph's setup best. He has 16x7 front, 16x8 rear Alpina's with 205/55's & 225/50's. I currently have 15x7's of a '92 525i with 205/60 Michelin Pilot XGTVR4 tires that I really like. Hope this helps you.
-Cliff
---
Unofficial Homepages: [Home] [E12] [E24] [E28] [E30] [E34] [E36] [Z3] [E39] [E46] [X5/E53] [ALL] [ Help ]