Home
E12
E24
E28
E30
E34
E36
Z3
E39
E46
X5/E53
ALL
Ron Stygar
Carl Buckland
Dale Beuning
Forums
Help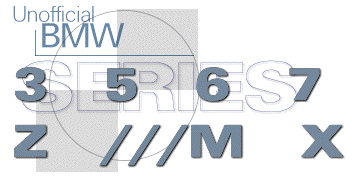 ---
From BMWparts_at_ListServe.com Thu Nov 20 20:03:58 1997
Subject: Digest for 11/20/97
To: "BMW Parts" <BMWparts_at_ListServe.com>

-> More E12 parts for sale

by Scott Stewart <Scott.Stewart_at_psilongbeach.com>
---
Date: 20 Nov 1997 10:23:05 -0500
From: Scott Stewart <Scott.Stewart_at_psilongbeach.com> Subject: More E12 parts for sale
Thanks to my E12 buddies and their good souls we have a shortened list of goods that currently need a home. All prices are fully negotiable, ie yard ornament or someone's useful part.
E12 parts for sale list:
Set of good grills $30
headlight buckets with bulbs both sides $20 front or rear bumper in good shape some rust underneath $20 each bumper bellows $15 each
glove compartment with latch $15
instrument cluster $25
steering wheel $10
any switches, controls, wiring, etc. $5 exterior trim $5 each
electric window motors $10 each
sunroof motor $10
door lock mechanisms, electric $10
complete doors passenger front and back, driver back only $30 each door brakes $5
rear glass $10 pick it up
wiper motor, squirrel cage blower, additional cooling motor $10 each rear end $40
axle shafts $25 each
rear calipers $10 each
emergency brake cables $10 both
seat belts $20 for all four
interior light switches $1
radiator good shape $40
condensor? $10
evaporator assembly less AC fan $25
Let me know if you need anything.
Scott
122 Forest Street
Pass Christian, MS 39571
(601) 452-3411 home
(601) 863-0007 work
BMWCCA#120949
---
Unofficial Homepages: [Home] [E12] [E24] [E28] [E30] [E34] [E36] [Z3] [E39] [E46] [X5/E53] [ALL] [ Help ]