Home
E12
E24
E28
E30
E34
E36
Z3
E39
E46
X5/E53
ALL
Ron Stygar
Carl Buckland
Dale Beuning
Forums
Help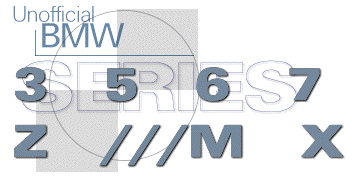 ---
From dale_at_unofficialbmw.com Thu Oct 16 01:00:26 1997
From: Dale B <dale_at_unofficialbmw.com>
Subject: <e12> references and questions answered
To: smschult_at_hamlet.uncg.edu (Samuel M. Schultz),
Date: Thu, 16 Oct 1997 01:00:13 -0700 (PDT)
Cc: dale_at_unofficialbmw.com


Hi Sam,

I have started an E12 (75-78 530i and 79-81 528i are E12's) homepage, but it's not very complete yet.
There is a WWW board dedicated to the 528i, which is very similar to your 530i. http://www.cs.wisc.edu/~schoenof/528i/ 528i homepage thanks to Tony Schoenoff

The Unofficial E12 Homepage www.unofficialbmw.com/e12.html also see: www.unofficialbmw.com/e12/e12.html

We recently purchased an 80 528i in very good cosmetic shape, but not so great mechanical shape. Since I've totally overwhelmed at work right now, it's down the street at Beyer Motor Works undergoing a major amount of work. The most work I've ever had a shop do to a car I own. Rebuilt driveshaft, shifter bushings, swaybar links, coolant change, new hoses, engine mounts, tranny mount, fixing sunroof cables, brakes flushed, new oilpressure sender, cam cover leak fixed, valves adjusted, new coolant temp switch. Ouch, expensive.

Features on our car, no idea which are options:
power windows
leather seats (dark blue)
wood trim
power steering
power brakes
fog lights
5 speed
sunroof
A/C
Blau am/fm/cassette cd-changer...just kidding
Performance:
This car has the standard M30 big-6 used in many many BMWs. The biggest difference is that this car uses the L-Jetronic fuel injection instead of the Motronic found in newer cars. Just look for guys modifying their 630i/633i/635i 530i/528i/533i/535i 733i/735i cars to get an idea of what tricks to use with this engine. Norm Grills 6 series FAQ would be a good place to start, and the various E28 home pages would also be good. See Ben Liaws links page or my link page for the addresses: www.unofficialbmw.com/bmw.html
Um, Sam? Could you trim your sig to 4 lines next time? The big 530i is cool, but it get's old after the first couple of times.
thanks
Dale
'95 M3 new shoes for the OWest drivers school this weekend in Casa Grande AZ '95 Land Rover Discovery, for sale! $25k takes it! '88 325is
'80 528i - our insurance agent said "hey people normally buy the old ones
first then the newer ones!"
> I'm a new BMW CCA member and was wondering if anybody could tell
> me the best way to find out more about my 1978 530i. I wan't to get
> started on a rebild and I am couris about what options where originaly
> avalible. Also if anyone has one and has a web page or miner preformance
> boosting modifications. p.s. the car was origanaly owned by my grandfather
> and as 101000 miles on it and compleat records. Any help would be
> aprecated.
>
> Sam Schultz
> 78 530i
> UNCG spots car club auto-x chair
--
---

                       |            Dale Beuning           |
                       |       email: dale_at_unofficialbmw.com     |
                       | web: http:/www.unofficialbmw.com/ |
                        -----------------------------------

Unofficial Homepages: [Home] [E12] [E24] [E28] [E30] [E34] [E36] [Z3] [E39] [E46] [X5/E53] [ALL] [ Help ]