Home
E12
E24
E28
E30
E34
E36
Z3
E39
E46
X5/E53
ALL
Ron Stygar
Carl Buckland
Dale Beuning
Forums
Help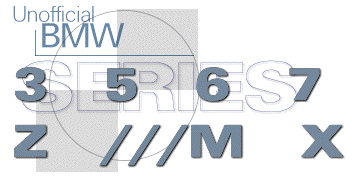 ---
Subject: Re: Restoring or replacing side window trim
---
Posted by D. Ferris on July 08, 1997 at 22:11:59:
In Reply to: Re: Restoring or replacing side window trim posted by Lenny D. on July 07, 1997 at 01:59:35:
: : Does anybody have a fix for the oxidized finish on the chrome-like trim around the side windows?
: : Or, does anybody know how to replace it. If you buy new doors, does the trim come on them? This is one of the few items that I have not been able to source in the effort to restore my 528i. : : Also, an earlier posting requested a source for the rubber/felt trim that goes in the window channels. Does anyone know of a good source for these misc. rubber parts?
: I replaced all four door window felts in my '80. Bavarian special ordered them for me and the price was reasonable. I forget what it cost now, I could go look it up if anyone's interested, or just call Bavarian. Installation is another matter entirely. Email or post for further info.
Could your reply to this site or E-Mail me their phone number or E-mail address.
Thanks D. Ferris drferri_at_msg.pacbell.com
Unofficial Homepages: [Home] [E12] [E24] [E28] [E30] [E34] [E36] [Z3] [E39] [E46] [X5/E53] [ALL] [ Help ]