Home
E12
E24
E28
E30
E34
E36
Z3
E39
E46
X5/E53
ALL
Ron Stygar
Carl Buckland
Dale Beuning
Forums
Help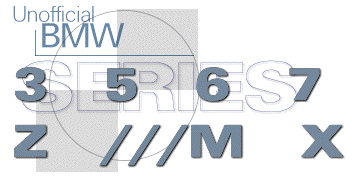 ---
---
[1][Prev][2][Next][3][Index][4][Thread]

                            '80 528i power windows.
     _________________________________________________________________
   
     * Subject: '80 528i power windows.
     * From: Eric Adair <[5]zeltar_at_intergate.net>
     * Date: Wed, 31 Jul 1996 15:22:56 -0400 (EDT)
     _________________________________________________________________

Greetings once again.
I've got an E12 528i, (yes, the one that everyone advised me not to buy. It was in better shape than it appeared, and it was much cheaper than it appeared, too), anyway, I'm working on the power windows. Few worked when I purchased the car. The problem appears to be with surface rust on the actual lifting mechanism, and it was solved with a judicious application of lubricants and a hammer. I'll explain in detail if anybody has the same problem.
Oh yeah. I had a question. I've got the mechanism working just fine, the window goes up and down, but at the very bottom of its travel, it catches, and is pulled slightly off the lifting rail, where it sits in a sort of clamp-like deal.
Something is supposed to hold the glass in down here, but nothing I can find explains exactly what. There are the remains of what looks like old glue on the glass, and the Haynes manual makes mention of "plastic disks". I found some thick plastic disk-like things in the bottom of the door, but they're too thick to fit in the brackets along with the glass. I think they have something to do with the door brakes, the mechanism for which was lying on top of said disks.
If anybody has worked on E12 windows before, and can advise me, I would be appreciative.
Eric Adair
P.S. If the guy who's parting out a 528i would contact me, I would also be appreciative. I've lost your email address.
-- Olympus Microsystems' Online Computer Store: [6]http://www.clearlight.com/~olympus/
---
Prev: [7]BMW 328i
Next: [8]Porsche Digest?
Index(es):

+ [9]Main + [10]Thread
References
http://www.digest.net/bmw/archive/v5/msg01112.html
http://www.digest.net/bmw/archive/v5/msg01116.html
http://www.digest.net/bmw/archive/v5/maillist.html#01115
http://www.digest.net/bmw/archive/v5/threads.html#01115
mailto:zeltar_at_intergate.net
http://www.clearlight.com/~olympus/
http://www.digest.net/bmw/archive/v5/msg01112.html
http://www.digest.net/bmw/archive/v5/msg01116.html
http://www.digest.net/bmw/archive/v5/maillist.html#01115
http://www.digest.net/bmw/archive/v5/threads.html#01115
Unofficial Homepages: [Home] [E12] [E24] [E28] [E30] [E34] [E36] [Z3] [E39] [E46] [X5/E53] [ALL] [ Help ]