Home
E12
E24
E28
E30
E34
E36
Z3
E39
E46
X5/E53
ALL
Ron Stygar
Carl Buckland
Dale Beuning
Forums
Help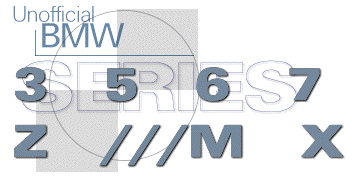 ---
Subject: Re: Blue Leather Seats

Posted by Stewart Harrison on May 13, 1997 at 20:34:57:

In Reply to: Blue Leather Seats posted by Troy Rudolph on May 13, 1997 at 18:06:23:

: If anyone has blue leather seats (front and/or rear) in nice condition to fit a 1979-1981 528i, please email me. : Many thanks!
---
Troy: There is a difference in the seats in the 528i series. There was a minor chassis change in September of 1979 which altered the floor pan.

As a result the seats from an early ( 1979 528i )will not fit a later model and vice versa. The 1979 528i and the 530i seats are the same, but the 1980 / 81 528i seats are only interchangeable with each other. I'm not positive but I believe that the E28 chassis seats will fit the late model 528i.

I have an early model and bought a recaro interior from a 1981 M535i and the front seats will not fit due to the differences in the floor pan. My recaro interior is for sale if you know anyone that may be interested.
Stewart Harrison
407-639-4558
---
Unofficial Homepages: [Home] [E12] [E24] [E28] [E30] [E34] [E36] [Z3] [E39] [E46] [X5/E53] [ALL] [ Help ]