Google Search

Search (Google!!)
Search Amazon.com
Home
E12
E24
E28
E30
E34
E36
Z3
E39
E46
X5/E53
ALL
Ron Stygar
Carl Buckland
Dale Beuning
Forums
Help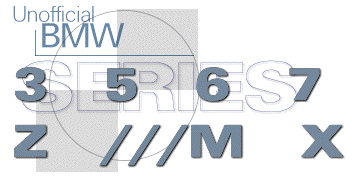 ---
---
[1][Prev][2][Next][3][Index][4][Thread]

                        <E12> steering wheel, plug gap
     _________________________________________________________________
   
     * Subject: <E12> steering wheel, plug gap
     * From: "jlcl01::mrgate::a1::pappentl"_at_jlcl01.dnet.dupont.com
     * Date: Mon, 2 Sep 96 20:21:15 EDT
     _________________________________________________________________

From: NAME: Thomas L Pappenhagen
FUNC: CR&D
TEL: (609) 540-3613 <PAPPENTL AT A1 AT JLCL01>
To: "BMW-DIGEST_at_MAILGATE.WIZVAX.NET"_at_ESDS01_at_MRGATE

i've been on vacation (nothing like three + weeks of the digest to catch up on...) and have two comments on E12 528i questions:
STEERING WHEELS - i currently have a 320is steering wheel in my '80 528i, it was an easy swap. i also installed the "is" seats, the driver's went in easily, but the passenger's took a bit of thought.
PLUG GAP - recent comments in the digest suggested 0.030" as the optimum plug gap for these cars.
...tom
pappentl_at_udel.edu
---
Prev: [5]My karma overfloweth
Next: [6]Re: How do I remove the bolts on the cover of '93 M5 wheels?
Index(es):

+ [7]Main + [8]Thread
References
http://www.digest.net/bmw/archive/v5/msg03569.html
http://www.digest.net/bmw/archive/v5/msg03574.html
http://www.digest.net/bmw/archive/v5/maillist.html#03570
http://www.digest.net/bmw/archive/v5/threads.html#03570
http://www.digest.net/bmw/archive/v5/msg03569.html
http://www.digest.net/bmw/archive/v5/msg03574.html
http://www.digest.net/bmw/archive/v5/maillist.html#03570
http://www.digest.net/bmw/archive/v5/threads.html#03570
Unofficial Homepages: [Home] [E12] [E24] [E28] [E30] [E34] [E36] [Z3] [E39] [E46] [X5/E53] [ALL] [ Help ]