Home
E12
E24
E28
E30
E34
E36
Z3
E39
E46
X5/E53
ALL
Ron Stygar
Carl Buckland
Dale Beuning
Forums
Help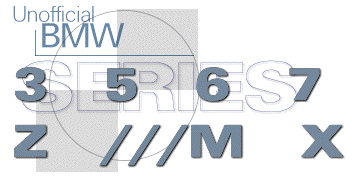 ---
---
[1][Prev][2][Next][3][Index][4][Thread]

                             79 528i in need of...
     _________________________________________________________________
   
     * Subject: 79 528i in need of...
     * From: Bob Van Epps <[5]72537.2212_at_CompuServe.COM>
     * Date: 21 Aug 96 11:16:30 EDT
     _________________________________________________________________

Sergio Juan ASKS:
5. I am interested in any information that can help my 528i run better/faster. I currently get about 16 mpg around town and the car is a bit hard to start when hot and idles
rough/low for about a minute after starting hot, until I step on the gas and bring the revs up.
Other than that, it has good power and runs very smooth. (any special books for this E12 I should
get?).
ANSWER: Try disconnecting the wire to the cold start valve. On my car with th e
same injection, the cold start valve is only needed below 40 degrees. As to performance, a quick boost to high end performance is to replace the 6 air runners on the intake manifold with those from 77-79 320i(s).
Bob
Many BMWs
---
Prev: [6]5-series wanted
Next: [7]2002 customizing tips and gross-out stories
Index(es):

+ [8]Main + [9]Thread
References
http://www.digest.net/bmw/archive/v5/msg02690.html
http://www.digest.net/bmw/archive/v5/msg02680.html
http://www.digest.net/bmw/archive/v5/maillist.html#02691
http://www.digest.net/bmw/archive/v5/threads.html#02691
mailto:72537.2212_at_CompuServe.COM
http://www.digest.net/bmw/archive/v5/msg02690.html
http://www.digest.net/bmw/archive/v5/msg02680.html
http://www.digest.net/bmw/archive/v5/maillist.html#02691
http://www.digest.net/bmw/archive/v5/threads.html#02691
Unofficial Homepages: [Home] [E12] [E24] [E28] [E30] [E34] [E36] [Z3] [E39] [E46] [X5/E53] [ALL] [ Help ]