Home
E12
E24
E28
E30
E34
E36
Z3
E39
E46
X5/E53
ALL
Ron Stygar
Carl Buckland
Dale Beuning
Forums
Help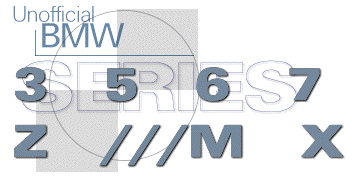 ---
Subject: What is the best ignition setup?
---
Posted by Troy Rudolph on September 15, 1997 at 15:09:15:
In Reply to: What type/kind ignition set up do you have? posted by Gregory Szczyrbak on September 09, 1997 at 20:05:14:
Unfortunately, the answer to your question depends on what kind of ignition system you have. If you have a '75-'78 530i with points you can get ***lots*** of improvement by replacing the system with an electronic ignition.
There are two ways to do this. First, you could scout the wrecking yards (excuse me, automotive recyclers) for a 79-81 528i and get the distributor, harness, ignition "computer" and *coil* and install them on your 530i.
Second, you could get one of the aftermarket conversions.
If you have a 528i with an all-electronic system, it's pretty hard to beat. In fact, some years ago I tried a Jacobs from Ray Korman and it wasn't as good as the stock system.
---
Unofficial Homepages: [Home] [E12] [E24] [E28] [E30] [E34] [E36] [Z3] [E39] [E46] [X5/E53] [ALL] [ Help ]