Home
E12
E24
E28
E30
E34
E36
Z3
E39
E46
X5/E53
ALL
Ron Stygar
Carl Buckland
Dale Beuning
Forums
Help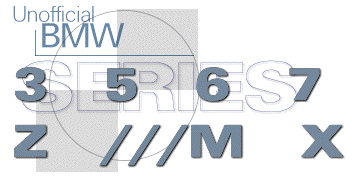 ---
---
[1][Prev][2][Next][3][Index][4][Thread]

                          Fuel Pump operation on E12
     _________________________________________________________________
   
     * Subject: Fuel Pump operation on E12
     * From: Sergio Juan <[5]juans_at_setpoint.com>
     * Date: Wed, 28 Aug 96 11:34:12 -0500
     _________________________________________________________________

>> About hard starting due to lack of fuel pressure when the engine is cranked
because the fuel pump
doesn't begin to function until the engine begins to crank...
Eric Tangen wrote:
> The pump operates: 1. while the starter is cranking & 2. when the flap inside
the air flow meter
moves >off the fully closed position (there is a reed switch under the plastic cap on the AFM that
senses this).
>You can turn the fuel pump on by putting the ignition key to the 'on' position
and lodging the air
flow >meter door open, all without having the engine run.
Thanks Eric...
I have an 86 VW Scirocco which had a fuel pump relay that ran the fuel pump f or one second when
the key was on 'ON' position/cranking position (by the time you got to the turn ing the engine, the
pressue in the fuel system was already built. When that relay went out, I got an aftermarket one
and this one only runs the fuel pump when the starter is cranking or engine is running (no priming).
The car seems to take more cranks to start now...
One suggestion earlier (from Douglas Wyman) was to add a check valve before the fuel pump, because
the one built in the pump may be leaking, to prevent losing presure. Apparentl y this works well...
My question: Is is possible to get a fuel pump relay (or other solution) for t he E12 that will
prime the fuel lines (run the pump for a second) so the system is already press urized when the
engine begins to crank?
Thanks, Sergio
juans_at_setpoint.com
'79 528i 180k...
---
Prev: [6]Re: <small-six block coolant....> tech tip
Next: [7]<E39> Glass S/R F/S or trade
Index(es):

+ [8]Main + [9]Thread
References
http://www.digest.net/bmw/archive/v5/msg03221.html
http://www.digest.net/bmw/archive/v5/msg03233.html
http://www.digest.net/bmw/archive/v5/maillist.html#03231
http://www.digest.net/bmw/archive/v5/threads.html#03231
mailto:juans_at_setpoint.com
http://www.digest.net/bmw/archive/v5/msg03221.html
http://www.digest.net/bmw/archive/v5/msg03233.html
http://www.digest.net/bmw/archive/v5/maillist.html#03231
http://www.digest.net/bmw/archive/v5/threads.html#03231
Unofficial Homepages: [Home] [E12] [E24] [E28] [E30] [E34] [E36] [Z3] [E39] [E46] [X5/E53] [ALL] [ Help ]