Home
E12
E24
E28
E30
E34
E36
Z3
E39
E46
X5/E53
ALL
Ron Stygar
Carl Buckland
Dale Beuning
Forums
Help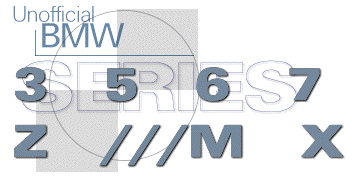 ---
Subject: Cracked heads
---
Posted by Cliff Robb on August 27, 1997 at 09:42:13:
In Reply to: Re: Cracked heads posted by Malice on August 21, 1997 at 20:24:03:
: : : I too have a heating problem, that I'm slowly sorting : : : out. Unfortunately I should have replaced the fan clutch : : : when I replaced the water pump. How do I tell if my : : : head is cracked, short of removing it and having it checked : : : at the machine shop.
: : Since your car is a '79, you have the early design head which is more prone to cracking. Do you know if the car has ever overheated? Hopefully not. Two things to look for: Oil slime in your coolant overflow bottle, and/or milky slime in your oil. If neither of those things exist, & the engine seems to run good, the head is probably o.k. You ca also check your spark plugs to see how they are burning. You would like to see a hazy light to medium brown color. Check the other posts regarding overheating here & you will find all your solutions.
: Hello,
: I have a '79, too. I have the milky film in the oil and a fair amount of white smoke with the exhaust. It has never overheated while in my hands. Could it be a broken head gasket?
: What is the value of a '79 528i in such condition? Interested?
More that likely there is a small head crack. Depending on the mileage of the engine, a rebuild is probably in order. The head will have to be replaced, & make sure you get the newer style head made from '80 on. Sorry to say, unless the car is otherwise in pristine condition, it's probably not worth a whole lot. The '79's were the least desireable of the 528i production run(79-81) due to the head problem, & the fact that only a 4-speed trans. was available. The car could be retrofitted with a 5-speed easily though. Get a catalog from Metric Mechanic in Kansas City(metricmechanic.com), if you would like to keep your car & upgrade it, they have everything you could possibly want. They could help you with the head problem as well. Good Luck.
---
Unofficial Homepages: [Home] [E12] [E24] [E28] [E30] [E34] [E36] [Z3] [E39] [E46] [X5/E53] [ALL] [ Help ]