Home
E12
E24
E28
E30
E34
E36
Z3
E39
E46
X5/E53
ALL
Ron Stygar
Carl Buckland
Dale Beuning
Forums
Help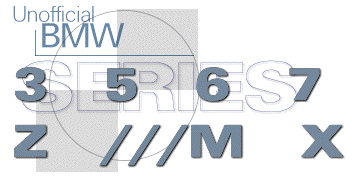 ---
Subject: Re: Overheating?? HELP

Posted by Cliff Robb on July 24, 1997 at 10:03:57:

In Reply to: Overheating?? HELP posted by Rachelle Hubert on July 24, 1997 at 01:45:35:

: Hey Everyone...
: I'm the recipient of a handy-me-down 1980 528i from my father and since I've had it (4 years in the running), I've had nothing but problems. Radiator has gone several times, fan belt, air-conditioning, alternator (several times), YADA YADA YADA. Put it this way, guys, it's been in the shop every month, if not twice a month, for BIG repairs for the last four years.

Anyways, what I need help on is the following: The engine's been running in the red for several months now and I've had it in and out of the dealership, hoping they could figure out what's wrong. They've replaced the radiator, fan belt, alternator, etc... And it's still having problems. HELP???!!!

I even live in AZ so my air conditioning's not even working right since the engine's running so hot... Anyone want to buy a 1980 528i??? :-) Crazy thing is in the last two months, I've sunk over $3000 into this car, trying to repair it. Any suggestions, everyone? Is it time to buy a new car?? If so, should I try to sell it throught the auto trader or use it as a trade-in? So many questions, so little space!!! :-) Any words of wisdom would be much appreciated.....
: :) rachelle hubert
: rjhdesign_at_aol.com
---
Rachelle
In the red for several months? Is the car leaking coolant or not? Did you crack the head yet? Based on what you described, It sounds like whoever you are taking your car to is not properly diagnosing the problem before repair. E12(1975-1981) 5 series BMW's are not known for their massive cooling capacity.
My '81 was also given to me by my father, luckily not my only transportation at the time. The older BMW's are cars for people who love them and like to work on them. I had a similar story with my cooling system, though not as severe. My temp gauge would go very high, then come down below middle after a long cool drive. In my case, I had a bad thermostat ($15 and easy to install). I put in the new thermostat, & the gauge would sit right in the middle, unless it was hot out or in heavy traffic. My original radiator had developed a leak, so I had Jim at Mesa Performance(www.mesaperformance.com) rebuild and upgrade my radiator to a 3-row from a 2-row.
For one extra preventative measure, Mesa supplied me with an 82 deg. c. electric fan switch down from original 91 deg ($15 also). The upgraded radiator cost about $265. I live in CA., and I made these upgrades because I sometimes drive the car very hard, but I could now drive through Phoenix in the middle of summer, A/C full blast(cold), uphill etc. with the gauge right in the middle.
If you are going to keep your car, find a reputable independant BMW mechanic(I am sure somebody here would know one in Az.), or learn how to work on the car yourself. Most of the dealer mechanics knowledge goes back to the late '80's at best. Good luck.
---
Unofficial Homepages: [Home] [E12] [E24] [E28] [E30] [E34] [E36] [Z3] [E39] [E46] [X5/E53] [ALL] [ Help ]