Home
E12
E24
E28
E30
E34
E36
Z3
E39
E46
X5/E53
ALL
Ron Stygar
Carl Buckland
Dale Beuning
Forums
Help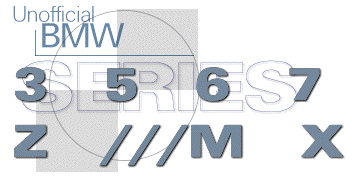 ---
Subject: Re: 528i advice

Posted by Brent Nordmann on March 15, 1997 at 15:24:04:

In Reply to: 528i advice posted by Stephen Cassell on February 26, 1997 at 09:30:17:

: Hello all,

: I am interested in a reliable used car with a little : panache... A friend told me that the 79-81 528i : is the best car BMW ever made in terms of maintenance : and reliability. Is this true? I would appreciate : some feedback from owners. Also, what should I : look for in a good 528i? What are some of the short- : comings? What should I be wary of? and what should I : avoid? If I can find one, what would you consider the : next best car from BMW?

: Thanks for the help,
: -Stephen

Stephen,

First of all, I've got an '81 528i and love it. It has needed some sorting-out mechanically, but runs well now and is a neat car to drive (especially on the highway!). Based on my experience, to follow is a list of things to look for should you decide on an E12 5-Series.
Check for oil consumption. BMW maximum allowable spec. is 1 quart every 800 miles. This may be hard to find on a high mileage motor, however.
Make sure you or your favorite mechanic takes a peak under the valve cover. You should take a careful look at the condition of the the camshaft lobes. Check to make sure that they do not appear to be squared off. If they are, it's likely that the first time you rev the thing over 5,500rpm or so, you'll float the corresponding valve and break a rocker arm. Not fun. Early BMW big sixes had a problem with loose banjo fittings connecting the oiler bar (which is what delivers oil to the head). This, in turn, leads to oil starvation and accelerated wear of the cam and rocker arms.
You should also take note of how dark the oil looks under there. The lighter the better.
3. Avoid cars with any kind of front end shimmy! Chances are it's not just warped brake rotors. You may also be looking at replacing worn front suspension pieces which can be a little pricey.
4. I'd make sure that the current owner has kept up on maintenance & not been lazy. These cars are reliable but do require a some routine maintenence to keep them happy.
5. It seems that the metallic paint on all early BMWs tends to be prone to fading. Once it starts, it spreads pretty quick.
Hope this is helpful.
---
[ Follow Ups ] [ Post Followup ] [ BMW 528i Info Board ] [ FAQ ]
Unofficial Homepages: [Home] [E12] [E24] [E28] [E30] [E34] [E36] [Z3] [E39] [E46] [X5/E53] [ALL] [ Help ]