Home
E12
E24
E28
E30
E34
E36
Z3
E39
E46
X5/E53
ALL
Ron Stygar
Carl Buckland
Dale Beuning
Forums
Help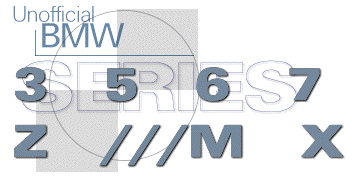 ---
Subject: seeking advice on purchasing used 528i
---
Posted by Stewart Harrison on September 06, 1997 at 17:24:47:
In Reply to: seeking advice on purchasing used 528i posted by john craven on September 02, 1997 at 20:34:49:
: I am debating purchasing an '80 528i for $1500 which seems to be in good condition. I have been reading through the posts and have found some good advice but I have never bought a used car and I have a few specific questions:
: 1) in regards to rusty shock towers, more specifically what should I be looking for?
: 2) i'm curious how costly some cosmetic items will be to fix, some of these include: minimal exterior rust, cracked leather on seats, ugly carpeting on the floor, and other such items. : 3) if maintenance records are not availble, should this be cause for concern?
: 4) because it is not currently registered, the owner is hesitant to let me take it for a spin on the highway. should this concern me? : 5) a local imported auto mechanic will check it out for me and make recommendations for $60. if the owner allows me to do this, is this worth it?
: 6) is it unheard of to have some kind of grace period on purchasing a used auto, if I find out within 30 days that I bought a junker?
: advice on any of these items would be greatly appreciated. thank you all.
>John: I'll attempt to answer your questions in the same order as asked.
The shock tower corrosion problem is definte area of concern, if the car has lived
in the "Rust Belt" where the use of road salt during the winter months, all of the
shock towers are suspect. The front towers can be partially seen when the hood is open,
however only the advanced cases of corrosion will be visible. The integrity of the front and
rear shock towers needs to be inspected from a lift.
The rear towers can be partially accessed from the trunk, but you will have to remove the
plastic shrouding.
The cosmetic item costs:
Paint job with minimal rust repair ( door corners?) $1500 to $2000.
Leather seats ( too expensive have redone in fabric leather costs $2000.
Carpet $150. for domestic loop in separate pieces $300. for european molded single piece
I have a 1978 530I and am in the restoration process the interior has been recovered in fabric, carpets replaced (the cheap $150. set) headliner replaced. Total $1350.00
I happen to have a gray corduroy Recaro interior for sale that won't fit my 530I. But thats another story.
Its very important to drive the car, a car that can't be driven is a pig in a poke. If the car is not driveable its not worth $1500.
A checkout of the car by a knowledgeable mechanic is important, but he really will need to
be familiar with BMWs.
One very important item is the production date on the cylinder head. The 6 cylinder BMWs built in that era had a cylinder head cracking problem. Cylinder
heads with a production date of 1981 and up have been modified to eliminate the problem.
The casting date on the head is located on the left side of the head and is visible between
the intake "C" tubes. It will be an 81 in a circle it is a cast mark. Any date of 81 or up
is ok, 80 or lower is not desireable.
I don't know where you live, but I would be surprised if you can get any type of guarantee on
a used car from a private party.
If you have any other questions,contact me
Good luck
Stewart H.
---
Unofficial Homepages: [Home] [E12] [E24] [E28] [E30] [E34] [E36] [Z3] [E39] [E46] [X5/E53] [ALL] [ Help ]