Home
E12
E24
E28
E30
E34
E36
Z3
E39
E46
X5/E53
ALL
Ron Stygar
Carl Buckland
Dale Beuning
Forums
Help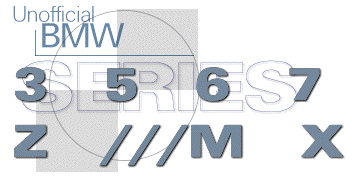 ---
---
[1][Prev][2][Next][3][Index][4][Thread]

                     Brake squeaks -- The Sound of Silence
     _________________________________________________________________
   
     * Subject: Brake squeaks -- The Sound of Silence
     * From: Bradbury Gregory <[5]101762.1703_at_compuserve.com>
     * Date: Wed, 28 Aug 1996 16:12:37 -0400
     _________________________________________________________________

Gents,
I've tried many solutions to the brake squealing and found a reliable solution. Brake squeal comes from what is in effect a harmonic vibration between the rotor, pad and caliper/caliper piston. Yes, it does pay to clean up the lands where the pads go in (fixed caliper cars) and generally get rid of the old brake dust.
Not using the softer OEM Jurid, Textar or Pagid will make a car less likely to squeal (note, there are racing compounds from Pagid that stop well and don't squeal). Using high-temp anti-seize on the metal edges of the pad is also a good idea as it helps the pad move and slide as it should, rather than jam and squeal.
I've tried the liquid goo you put on the metal backing plates and it's OK. The spray versions available from Wurth and other suppliers is pretty good too. But nothing really lasts forever, until .....
The solution is a self-adhesive steel shim that you apply to the metal backing pad before you install new pads. Yes this was once (still?) used by BMW at the factory with mixed results. Beck/Arnley (the foreign car equivalent of NAPA) makes and sells them. They are available for BMW's (and other brands too) from the 2002 up to current cars. The also offer a fiber shim, you want the self-adhesive steel shim. The bottom line is they're in-expensive, easy to install and THEY WORK.
Check your yellow pages. For readers like myself outside of the US & Canada, find a good friend in the Digest to help you get them. If you can't find a distributor in your area, Beck/Arnely Worldparts in located in Nashville, Tennessee.
Enjoy the silence,
Gregory Bradbury
1981 ///M535i (E12) -- for sale
101762.1703_at_compuserve.com
---
Prev: [6]Re: Smog Test 2 in Ca
Next: [7]Barry and the Valentine
Index(es):

+ [8]Main + [9]Thread
References
http://www.digest.net/bmw/archive/v5/msg03248.html
http://www.digest.net/bmw/archive/v5/msg03283.html
http://www.digest.net/bmw/archive/v5/maillist.html#03251
http://www.digest.net/bmw/archive/v5/threads.html#03251
mailto:101762.1703_at_compuserve.com
http://www.digest.net/bmw/archive/v5/msg03248.html
http://www.digest.net/bmw/archive/v5/msg03283.html
http://www.digest.net/bmw/archive/v5/maillist.html#03251
http://www.digest.net/bmw/archive/v5/threads.html#03251
Unofficial Homepages: [Home] [E12] [E24] [E28] [E30] [E34] [E36] [Z3] [E39] [E46] [X5/E53] [ALL] [ Help ]