Google Search

Search (Google!!)
Search Amazon.com
Home
E12
E24
E28
E30
E34
E36
Z3
E39
E46
X5/E53
ALL
Ron Stygar
Carl Buckland
Dale Beuning
Forums
Help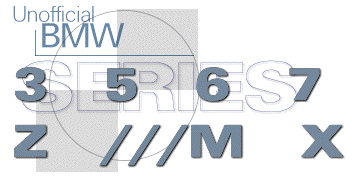 ---
---
From RonStygar_at_aol.com Tue Aug 8 23:06:38 2000
From: RonStygar_at_aol.com
Date: Wed, 9 Aug 2000 02:06:03 EDT
Subject: <all> Wheel dismount and mount tool
To: dale_at_unofficialbmw.com
BMW cars come with a tool to help aid in installing a wheel. It works when removing a wheel too. Note the bend in the BMW tool.

When I purchase a new car, one of the first things I do is remove the wheels to clean them etc. On my Z3 M coupe, I dropped the first wheel onto the brake disc, not being familar with the weight of a 17 inch wheel and tire. This put a nice scratch in the wheel. From then on, I've been using the BMW tool to dismount and mount my wheels. Steve D' Gerolamo: http://www.ultimategarage.com has a new tool to do the same thing in a better way. Nice idea.

The difference with his tool is that it is made of stainless steel and screws in place.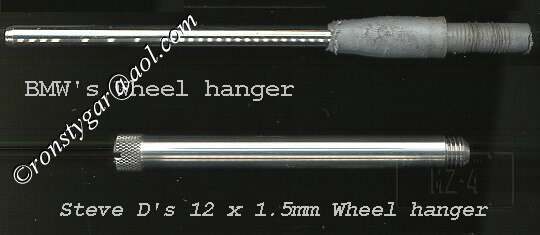 This deals with the heavier wheels and doesn't fall out when removing a wheel. It is knurled at the end which lets you easily screw it into place by hand. If it gets stuck there is a screw slot to remove it. The following are the instructions that come with the tool. I edited out the non BMW stuff and added a comment.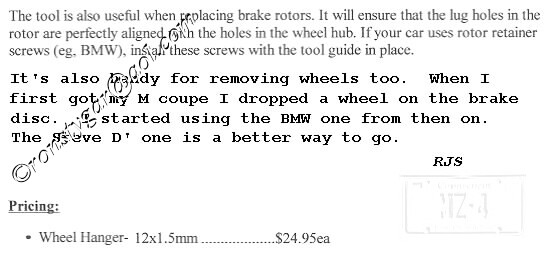 ---
Ron_at_unofficialbmw.com, FLI BMW, FLY BMW, Marlborough, CT
http://www.unofficialbmw.com/ronstygar.html
Unofficial RS/SS bender/shortener/installer +


Unofficial Homepages: [Home] [E12] [E24] [E28] [E30] [E34] [E36] [Z3] [E39] [E46] [X5/E53] [ALL] [ Help ]