Home
E12
E24
E28
E30
E34
E36
Z3
E39
E46
X5/E53
ALL
Ron Stygar
Carl Buckland
Dale Beuning
Forums
Help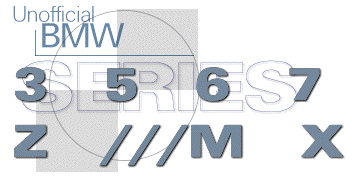 ---
---
From digest.v6.n228 Sun Feb 16 16:16:38 1997
From: Alfred Sutlick <asutlick_at_adnc.com>
Date: Sun, 16 Feb 1997 11:36:28 -0800
Subject: <BMW> Aluminum wheel repair, San Diego, CA area.

I had a wheel on my 6er that had a slight ding in the rim, from the time I acquired the car. Although it didn't affect the balance of the wheel, I finally decided to have it repaired for esthetic reasons. I utilized Eddco Wheel Co. in Santee (eastern suburb of San Diego). Although the job wasn't much of a challenge for them, I did have the opportunity to talk with an employee and be shown some of the damaged wheels they had yet to work on, and some that had already been repaired. Some of the wheels had their rims literally folded under; I was told that they were repairable.
Without going into a lot of detail, the employee stated that the process of heating and reshaping the wheel is accomplished under controlled conditions, i.e., they monitor the temperature of the applied heat, as it varies from application to application.
The quality of their work appeared impressive, if their claims of extent of prior damage, was in fact accurate.

        Eddco Wheel Co.
        Suite K & L
        9437 Wheatlands Ct.
        Santee, CA 92071
        619/258-2575
        I don't know if they have an email address or fax number.

Al Sutlick
BMWCCA #000367
'79 635CSi Euro ('88 535i engine)
'84 528e
'91 325i (son's)
Unofficial Homepages: [Home] [E12] [E24] [E28] [E30] [E34] [E36] [Z3] [E39] [E46] [X5/E53] [ALL] [ Help ]