Home
E12
E24
E28
E30
E34
E36
Z3
E39
E46
X5/E53
ALL
Ron Stygar
Carl Buckland
Dale Beuning
Forums
Help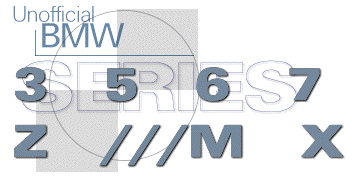 ---
---
From digest.v7.n589 Fri Nov 14 09:46:32 1997
From: Louis Goldsman <goldsman_at_ix.netcom.com>
Date: Thu, 13 Nov 1997 23:59:23 -0800
Subject: Wheels (Wesco)

Ed Mellinger asked about getting BMW E34 takeoff wheels to use on his E28. He asked about a company he heard about in the L. A. area that is a big vendor of BMW wheels. The company he asked about is Wesco Track & Tire located at 8441 Sepulveda Blvd., Sepulveda, CA 91343 (a suburb of L. A.). Their phone number is 818-894-3700 (FAX 818-894-7990).
Wesco is not so much a dealer in BMW wheels as a supplier of aftermarket wheels to new car dealers. (You know, so when you buy your new BMW the dealer can charge you $2,000 extra to take those forged alloy wheels off your hands in exchange for chrome plated whatsyamacallit wheels.) This is really big business in Southern California (surprise!). New car dealers down here routinely put aftermarket wheels on the new cars in the showroom. They generally change the tires as well.
I first dealt with Wesco when I bought my M5 in 1990. I kept the factory wheels, with the bolt-on turbine blades, but Wesco chrome plated the wheels and painted the turbines and center caps black to match the car. (Without some change the car looked like it had whitewall tires!) (Phil M. - you already poked me in the ribs about my wheels!) Since then I've spoken with several new car dealers that have and do deal with Wesco, everybody had good things to say.
There is another source for factory takeoffs - Used Rim, Inc., 3545 San Gabriel River Parkway, Pico Rivera, CA 90660. Telephone 1-800-USEDRIM or 562-908-8812 (FAX- 562-908-8821). All they deal in is factory wheel takeoffs. They generally have a big selection of both new and used wheels for almost any car. (M. P. - They don't sell tires either). I bought a set of the 91 M5 factory wheels with the cooling turbine blades (no chrome, no paint) for my track tires from Used Rim. A painless exercise.
Good luck
Louis
91 M5 (J. Conforti chip)
Unofficial Homepages: [Home] [E12] [E24] [E28] [E30] [E34] [E36] [Z3] [E39] [E46] [X5/E53] [ALL] [ Help ]