Home
E12
E24
E28
E30
E34
E36
Z3
E39
E46
X5/E53
ALL
Ron Stygar
Carl Buckland
Dale Beuning
Forums
Help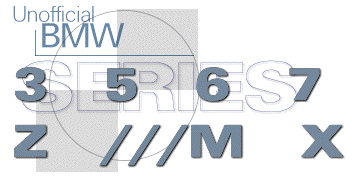 ---
---
From digest.v6.n908 Tue Jul 22 07:51:38 1997
From: "Robert A. Dickelman" <Writexpress_at_compuserve.com>
Date: Mon, 21 Jul 1997 23:24:05 -0400
Subject: Re:Wheel locks

>Just a quick warning. On Tuesday morning I realized that the nifty BMW
>wheel locks with the keys for which I forked out $70 are not infallable
>and can be popped off quite easily.
I have used locks like these in the past (all the way back to my '74 2002= ),
and they have been nothing but corrosion-collecting trouble.
I just received four wheel locks from Bavarian Autosport for my E36 M3. They use a lug "wrench" that mates to the heads on the lug bolts (similar=
in concept to the McGard wheel locks--but a different shape, with four nonmoving locating pins). What makes them unique is a screw-on 17mm "cap"=
that looks just like the stock lugs. The caps come in either black or chrome, and the wrench and lugs themselves are very nicely machined from high-strength stainless steel.
If you want to have your wheels locked--but stock-appearing--you might wa= nt
to consider these at $39.95/set (catalog price). Bavarian Autosport's pho= ne
is 800-535-2002; the web site is http://www.bavauto.com/.
Bob D.
BMWCCA Member
P.S. I have no connection to Bavarian Motorsport other than as a new customer; YMMV! =
Unofficial Homepages: [Home] [E12] [E24] [E28] [E30] [E34] [E36] [Z3] [E39] [E46] [X5/E53] [ALL] [ Help ]