Home
E12
E24
E28
E30
E34
E36
Z3
E39
E46
X5/E53
ALL
Ron Stygar
Carl Buckland
Dale Beuning
Forums
Help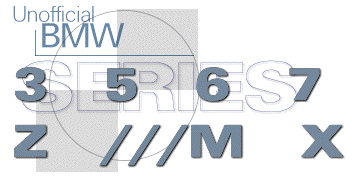 ---
Date: Mon, 12 Jun 2000 16:57:57 -0500
From: Andrej Dolenc <adolenc_at_erols.com>
Subject: Re: [E36M3] Fikse Wheels for the M3

I haven't seen any replies to this yet, so I'll answer as one opinion. Sorry if this turns out kinda lengthy..
I have a '97 M3, stock suspension, with Fikse's. I run the 17x8.5 Fikse FM10's, offset 37.5mm. On each rim is a 245/40/17 Toyo Proxes T1-S. No spacers needed, no rubbing on my setup. Previous to this I ran the Toyo Proxes T1 plus, also with no rubbing or issues of any kind. With the 37.5mm offset, the rear tire comes fairly close to the fender lip. With a wide tire, like an R compound, or with a dropped suspension, you might have to roll the fender lip. Another possible contact point is the front strut. With my old Proxes (t1+), they came _really_ close to the strut. No rubbing, but I couldn't get a finger between the tire & the strut. Again, with a wider tire you might run into issues. I don't know whether you could fit a 255/40/17 tire up front without spacers.
more below, replied per paragraph.
> I'm thinking about buying some Fikse rims for my '95 M3. I know that there
> are a number of folks on the list who already have some Fikse's or at least
> knowledge on wheel fitment on the E36 M3, so help me out here, please.
> I'd like to keep the wheels all the same width so I can rotate them like the
> stock 7.5" that are currently on my car. I also want to stick with 17"
> diameter to keep tire costs reasonable. I'd also like to stay away from
> spacers, if at all possible. What is the widest rim that I can run without
> getting into rubbing issues? I have Bilstein's and H&R sport springs. Will
> I have to roll the rear fenders? What is the widest tire I can run on these
> wheels?
> I was thinking 8.5" all the way around and 245/40 or 255/40 if they will
> fit. My main interest here is to get some wheels that look nicer and are
> stronger and lighter than my stock wheels (everyone says that the 95 rims
> are soft as butter). I want the widest tire possible for increased handling
> and higher cornering threshold. By my calculations, the 245's are 1.3%
> greater in overall diameter and the 255's are 2.6% greater than the stock
> 235/40's. How much is too much, when increasing overall diameter? I am
> suspecting that this will make my speedometer readings incorrect... is there
> anything else?
> Now lets talk about the wheels. I'm split between the FM5 and FM10... the
> FM10 looks more boss (IMHO) but won't be easy to clean... I might put up
> with that since they look so nice, but I'm not dead set on this. Fikse
> offers anodization on their wheels. I'm guessing that this is for race
> cars. What are your suggestions for a road car which might see a driver's
> school and a bunch of highly spirited romps down the Texas Hill Country
> roads? Do I need anodization? Will this make cleaning the wheels easier?
> Does it look ugly? I'm not into the chrome look at all, but considering the
> $$$ spent here, I'd like them to look sharp. I've seen some rims with the
> polished look, and I was impressed...
The FM10's do look great, especially when clean. They do get dirty quickly, especially with stock brake pads (like on my car). There's a lot of nooks & crannies for brake dust to accumulate on the FM10's, they are a bit more difficult to clean. A brush attachment for a garden hose works reasonably well.
I had many of the same concerns as you, I wasn't too keen on the idea of a chrome wheel either. Rest assured, the basic finish is not chrome, it is more of a machined aluminum. It does look very sharp. See previous comment about how they look when they're clean :) Check out this picture of Calvin Hare's M3:
http://www.bmwmpower.com/Gallery/e36gallery/M3-08.jpg on Suzy Kraft's E36M3 site. Not quite chrome, but definitely not silver paint. (Calvin was one of the guys who convinced me to go with the machined FM10's, so I guess it's my turn now <G>)
I have seen FM10's with the silver anodized finish. They're not quite as sharp as the machined finish (in my opinion), but cleaning these is apparently very easy - one local CCA member told me he just simply hoses off the brake dust, whereas I have to scrub it with either a hose, a rag, or both. Tough call, when the machined ones are clean, they're spectacular looking. But cleaning them takes some effort.
> Now finally, what are the best locking lugs available that match the finish
> of the Fikses? I saw an M3 at the BMP Fun Day last year with some nice
> FM10's and lugs that looked great. Even though they were large, they
> matched the finish well. Anyone know the brand and where to get them?
DON'T DO IT. Yes, I'm yelling on purpose. When I bought my Fikse's, I bought locking lugs from them as well. They were the McGard style locks. For a while everything was fine and dandy, no problems. Then earlier this spring I went to rotate my wheels, and the key itself started digging into the locking lug, and stripping at the same time. End result, I had to go to a tire shop where they used a special locking lug removal socket. They hammer this socket onto the lug & extract it off. Needless to say, at this point I don't run locking lug nuts, nor do I ever plan to again. That's what insurance is for.
I will say another thing about the Fikse's. When I bought them, I didn't really think much of the fact that they are a true 3 piece rim. The Fikse's are very strong, but they're not indestructible. On a long road trip of the US last fall, we bent one of the rims on the inside, bent it enough to where it cracked just slightly. Not enough to let out air (lucked out!), but enough to cause a noticeable vibration while driving. Since it is a true 3 piece rim, my tire shop ordered a rim half from Fikse, and replaced the rim half. It cost a bit more than straightening a bent stock rim ($200), but it resulted in a rim that was as strong as a new rim.
I think the FM10's are great, and wouldn't hesitate to purchase them again.
Andrej
'97 M3
Unofficial Homepages: [Home] [E12] [E24] [E28] [E30] [E34] [E36] [Z3] [E39] [E46] [X5/E53] [ALL] [ Help ]