Google Search

Search (Google!!)
Search Amazon.com
Home
E12
E24
E28
E30
E34
E36
Z3
E39
E46
X5/E53
ALL
Ron Stygar
Carl Buckland
Dale Beuning
Forums
Help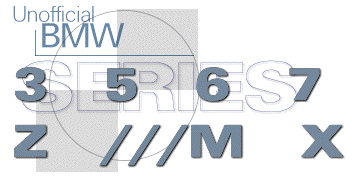 ---
---
From digest.v7.n1913 Sun Jun 21 20:43:18 1998
From: DuaneCollie <drcollie_at_keepingroom.com>
Date: Sun, 21 Jun 1998 21:54:25 -0400
Subject: To Sunroof or Not to Sunroof?

>From: "David Eichenbaum" <deichenb_at_com1.med.usf.edu>
>Date: Thu, 18 Jun 1998 11:58:57 -0400
>Subject: To order a sunroof, or not to?
>
>I've got a deposit on the first local M Coupe, and the time to
>officially.spec-out the car is approaching rapidly. The only factory option
>available is a sun roof. I'm aware of the obvious benefits of the glass
>sunroof, but I am somewhat confused about its detriments. Does it decrease
>structural rigidty or add an unduly amount of weight? Is a non-S/R car
>significantly stiffer and inherently better-handling? I'm not concerned
>with it's re-sale benefit as much, since this bullett is going to be driven
>daily for quite a while.
David,
If you ever intend to use this as a serious track or autocross car, leave out the sunroof. It adds about 70 lb. at the highest point of the car and a sunroof car has less headroom - important for helmet clearance. Plus, you save $ 1,000.00 or so. That's enough to buy a rollbar AND a set of R1's.
Don't forget that for resale value however, you SHOULD have a sunroof.
Duane Collie
RM3DR1/UUC/ISOP
National Capital Chapter
Unofficial Homepages: [Home] [E12] [E24] [E28] [E30] [E34] [E36] [Z3] [E39] [E46] [X5/E53] [ALL] [ Help ]