Home
E12
E24
E28
E30
E34
E36
Z3
E39
E46
X5/E53
ALL
Ron Stygar
Carl Buckland
Dale Beuning
Forums
Help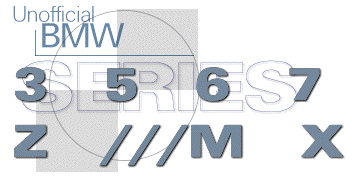 ---
---
From digest.v6.n621 Mon May 5 12:54:42 1997
From: Bob Stommel <Bob_at_trader.com>
Date: Mon, 5 May 1997 08:29:33 -0500
Subject: Windy City Chapter Road America school

Fellow track junkies:
Kudos to the BMW CCA Windy City Chapter. Just got back from their driver school at Road America this past weekend (I went in disguise as a student since it was my first time there). A well-organized, well-run school on a phenomenal 4-mile track. The speeds on this track are incredible. There's actually a speed limit imposed for one corner to keep cars from running out of room at the exit. And it's a good thing -- it's a FAST sweeper and there's nothing but concrete and Armco to greet you just a few feet off the exit of the turn. I dubbed it "fear and loathing in the Kink".
These people know how to run a SAFE school. Good classroom sessions, good skidpad exercises, good instructors (even the food at the track was good -- better than most of the lunches I eat during the workweek). If you ever have a chance to attend one of their May schools there, it's worth whatever drive you have to make.
Bob Stommel
Indianapolis, IN
Hoosier Chapter BMW CCA Instructor
Unofficial Homepages: [Home] [E12] [E24] [E28] [E30] [E34] [E36] [Z3] [E39] [E46] [X5/E53] [ALL] [ Help ]