Home
E12
E24
E28
E30
E34
E36
Z3
E39
E46
X5/E53
ALL
Ron Stygar
Carl Buckland
Dale Beuning
Forums
Help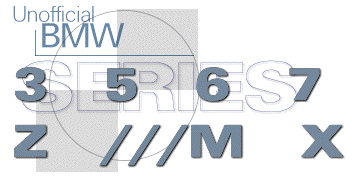 ---
---
Date: 29 Apr 1997 16:27:38 -0400
From: Shawn Collins <shawn_at_geejeffery.com> Subject: Mosport Weekend Update, Day 2 <LONG>
After a pretty good night's sleep I left home at 6:00 am for the 7:30 registration (checked the oil first: no problems).
The morning started with a safety refresher for all students and instructors. The importance of "letting-up" when allowing someone to pass was stressed. I was grateful here. Let me explain passing:
At Mosport, the yellow and blue groups are only allowed to pass on the back straight (between 5c & 8) or the pit straight (between 10 & 1). The red group is permitted to pass between 3 and 4. If you're a slower car you'll be given a blue flag by one of the corner marshals. When it's safe to do so, you pull to the left and give 3 right-turn signals. This indicates to the car behind that you're permitting them to pass on the right. When the car pulls right to pass you MUST let up on the gas, this means, "off the gas completely". The reason for this is because you could have an E36 behind you, but you don't know if it's a 318ti, M3, 318i/s or 325/8i/s, and that car just might not have the grunt to pass you. I'll admit that I didn't bother letting up for this ///540i once, but there was absolutely no point!
Again, I was grateful that they stressed this because I had a couple hairy instances with this Acura Integra (I'll be careful not to mention that the driver was female -- oops). I was notably quicker than Laura (oops), and she had been given the blue flag in 5b to allow me to pass after 5c on the back straight. We blast out of 5c up the straight and I'm right up her butt (which is where you're supposed to be when following a slower car), she pulls left, signals, I pull right...and...I've got it floored...and...I'm not passing! Hey, what's up? Oh...we're approaching 8 and I'm on the right side of the track (off line)...Laura's right beside me on the left...I don't think this is a good thing..."Let up, Let Up!, LET UP!!!"...she doesn't! At the last moment I let up and tuck in behind. After successfully completing 8, 9 and 10, I'm on Laura again...she signals...I pull right...this straight is 1/3 the length of the back straight...the upcoming corner 1 is 10x harder than 8...and...I'm...beside the Acura! "Let up, Let Up!, LET UP!!!" She does, finally, just before the turn-in, and I go into 1 harder on the brakes because my line is much tighter than it should be...WHEW!
Laura's a darling and an impressive driver, this is her 2nd school, but my point to all of you is make sure you give plenty of room for another car to pass. Also, I don't have any hangups about women driving, don't get me wrong...I just wanted to inject a bit of humour into my story.
At 9:00 am the yellow group went straight to the track for a 25 minute session. My instructor asked me what I had been thinking about last night and this morning on the way to and from the track. I had paid plenty of attention to vision skills, and gave much thought to which corners I felt needed work. I mentioned that I wanted to start out slower and have him talk me through my problem corners. We went out, did what I requested and when the session was over he complemented me on having a very good run.
The track session was followed by a great autocross exercise. The track was configured as a 2 lap track, first a figure 8 followed by a perimeter oval. I found myself pushing much harder than I have been at club autocross events.
A classroom followed, covering threshold braking.
The second track session was much like the first, practicing and refining my line, looking where I'm supposed to look, all the while picking up the pace a bit more. By this time many interesting "evolutions" are taking place. I'm able to follow my own line easily -- ignoring the other cars I might be following (I was also complemented on this by my instructor). I had always wondered how you could have the discretion to ignore someone else's line and just follow your own. I just found that it starts to come naturally. I'll be approaching a corner thinking, "Why the hell is that guy over there?", knowing that I have a better line than that. The ti's line is quite surprising, and much tighter than those heavier E36s! You can get away with using less of the track in many cases. By this session the Techno Violet ///540i (this is a real /// car, Canada only I think) gave up on passing me. Although he had the grunt on the back straight (he could be coming through 6, I'd be in 7, and he'd close the gap before I'm setting up for 8!), I was all over his butt in the corners. I think his instructor just told him to not bother going full-out on the straights because he would just get in my way again. :-) After 25 minutes, I was commended on a very good run again.
Lunch -- I spent lunch tackling the figure 8 autocross.
Our original schedule called for 2 more track sessions, followed by a last ride in the instructor's car. My instructor felt that I would learn more if I rode with him and the blue group before my last two sessions, rather than after. We went in my car.
Understanding my apprehension to him driving my car at 9/10s with the possibility of joining the Porsche from Saturday, he agreed to keep it at around 7-8/10s. Even at this rate, we were on every E30, Porsche and E36 M3 in corners, passed the '96 ti-Sport, and having a grand ol' time! I was still a bit worried about my car, so he took two cool down laps (1 for me!).
My last two 25 minute sessions:
Even though the cars are spaced evenly apart when leaving the pits, by the time the session ends you've passed a number of slow cars, been passed by faster cars, and you can get an idea of how you were lapping compared to everyone else when you pit. I had been doing fairly well all weekend, probably in the top 10.
This time I lined up behind Robin, #4, in a '96 328i. Robin is an ex crotch-rocket racer who won a championship in '93, but has never raced cars. He's been doing damn good all weekend, better than everyone in the group (I think he was promised a graduation to Blue even before the weekend was over). I was happy with my starting position because I knew that if I could stay ahead of everyone behind me that I'd have a good clear track ahead (I knew I'd never see Robin again once he left the pits).
I ran a couple laps at my "usual" pace and my instructor was pleased. He asked me, "You've been running some good laps, are you comfortable with the pace?" I reply, "Yes." He says, "Well then, if you want we can take it up a notch." I said, "Sure, but I'll only do what I'm comfortable doing."
Well then!
Here's where I learnt that everyone on the track is traveling roughly the same speed pretty much because it has been dictated by the instruction your getting. In a typical corner you setup for the corner at the turn-in point by braking (and downshifting if necessary), balance, balance, balance, balance to the apex and gentle/gradual application of throttle from the apex until you unwind at the exit.
The "Next Level" entailed harder braking at the turn-in point, balance until you were on the right line to the apex, and power out substantially harder before reaching the apex, often flooring it depending on the corner. Through corner 2, for instance, the instructor is telling me to "Go! GO!" as I'm approaching the first apex. Here I'm thinking, "More speed is not what I want here. Brakes would be a good thing!" But I took his word for it, and WOW! I just learnt to throttle steer! For some strange reason, you feel like you're about to fall off the face of the planet, but when you floor the car before the apex the car just "hooks up" and goes for it! Past the first apex, straight to the second apex and unwinds to the exit -- and I didn't even move the steering wheel! What a rush! Corner 5b was just as wild. As you may recall, the corner is a hard RH 2nd gear corner. From the downshift/turn-in point, you crank the wheel right and just floor it. The ti once again just hooks up, finds the right line, and blasts out of the corner! The advantage that the ti has here is that it's "underpowered", so it doesn't have enough umph to spin the car out.
Well now I'm just rockin'! I'm closing in on cars like you wouldn't believe. I remember coming into 8, with a 325i in front of me going through 9 and I'm all over his butt exiting 10! I passed so many cars that run, including this Civic Coupe that had been passing me all weekend, never did see Robin, but I ended up pitting right after him. Both of us had lapped more than half of the pack.
The last run was much like the 3rd, but after 10 minutes I was starting to get exhausted. The forces are just that much higher, and I was probably still only driving at 5 or 6/10s. When you get tired, you get a little sloppy. As my instructor says, "Once you mess up a few corners, it's best to just back off and get yourself together." And something important to remember: If you go just a little faster, you only need to make a little mistake to get yourself into a lot of trouble! Good idea to heed these words. We spent the last 10 minutes lapping at a conservative rate, recapping the weekend, and generally having a good time.
So that's pretty much it. I had a great weekend, I'd do it again (and I am in September), my instructor was great, the classroom instructor was great and I met some interesting people as well as seeing some familiar faces from the autocrosses.
If you're not too far from Toronto, I'd encourage you to attend a school at Mosport some day. The track is one of the most challenging, as confirmed by many of the instructors who have driven Shannonville, Mont Tremblant, Watkins Glen, Mid-Ohio and NHIR. BTW: Mosport used to be an F1 track in the 60s-70s and still hosts SCCA today.
Facts & Figures:
-I used 1/4 tank of gas on Saturday.
-I used 1/2 tank of gas on Sunday. 20 minutes more track time.
-It's Tuesday, and my arms are still sore.
-I have two bruises, one on the outside of each thigh from getting pushed against the Sport Seats' thigh bolsters. Ouch!
-My car is still dirty.
-Everyone on the highway drives WAY TOO SLOW.
-Everyone on the highway is a crazier bastard than they were four days ago.
-You need two good nights' sleep to recuperate.
-No one will ever fully appreciate your excitement and enthusiasm.
-The track is hard on your car, no buts about it.
I'm on my cool down lap now (remember: don't use your brakes!)
Regards,
Shawn
'95 318ti | Jet Black, partial M Technic |
Sport | M Contour, S-02, K&N, PBR |
---
Unofficial Homepages: [Home] [E12] [E24] [E28] [E30] [E34] [E36] [Z3] [E39] [E46] [X5/E53] [ALL] [ Help ]