Home
E12
E24
E28
E30
E34
E36
Z3
E39
E46
X5/E53
ALL
Ron Stygar
Carl Buckland
Dale Beuning
Forums
Help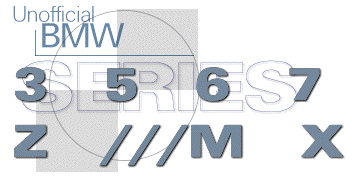 ---
---
From digest.v7.n500 Mon Oct 27 18:33:41 1997
From: Bob Stommel <rstommel_at_iquest.net>
Date: Mon, 27 Oct 1997 13:44:55 -0500
Subject: RE: Helmets

>I was wondering if anyone had any sugestions for street tires for my 78
>530i, I my budget is small but I wan't high performance. The car is not a
>day'ly driver, so I don't need a high milage rateing. Also has anybody had
>much luck with mail order tire stors? I'm also working on geting a helmet
>anyone have opinions on good ones and where to get them at a good price.
If you're interested in a Bell helmet, check out: http://www.bellmotorsports.com
They are currently selling all Bell SA95 helmets at dealer cost if ordered via the phone numbers on the web page. Make sure you tell them that you got the info from their web page.
Bob Stommel
Hoosier Chapter
Indianapolis
(no financial interest in Bell)
Unofficial Homepages: [Home] [E12] [E24] [E28] [E30] [E34] [E36] [Z3] [E39] [E46] [X5/E53] [ALL] [ Help ]