Home
E12
E24
E28
E30
E34
E36
Z3
E39
E46
X5/E53
ALL
Ron Stygar
Carl Buckland
Dale Beuning
Forums
Help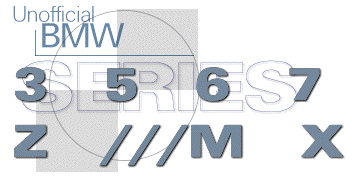 ---
Date: Wed, 24 Feb 1999 04:42:38 -0700
From: "Greg Koenig" <gregk_at_innrspc.com>
Subject: [E36M3] Tools (again)

Ok, so realizing that my last tool list was, by many accounts, either too extensive, or not extensive enough, I decided to rewrite the whole thing. With the tools outlines in this list, you will be able to perform all of the following to your car:
Remove/Install Wheels
Bleed Brakes (two options)
Replace Brake Pads
Replace Rotors
Oil Changes (for old or new oil filter housing covers) Tranny Fluid Changes
Diff Fluid Changes
Coolant Changes
Spark Plug Replacement
Some people wrote me saying things like "Well, you will want _X_ tool to have the ability to do _x_ kind of work." That isn't really the point. I am trying to create list for a set of tools you can buy that will allow you to do routine maintenance an M3/E36 owner might have to perform. Add up all of the above procedures and you will find that buying this set of tools will pay for itself a couple of times over within a year. I would assume that someone wanting to do "_x_" kind of special work would know exactly the kinds of tools they would need to perform such tasks, so that kind of stuff is not listed here.
---
Getting the Car off of the Ground:

1- Floor Jack (Lincoln)

2- Low Rise ramps (for getting the nose of the car in the air enough to accept the floor jack)

2- Wheel Chocks

1- Steve D jack plate... VERY nice to have, almost a requirement

2 or 4 Jack Stands depending on if you want to get all 4 wheels off the ground or only two. I would start out with two, as they will get the job done, though for fluid changes, having the car level and in the air with 4 stands is much nicer.

Ron Stygar is making (or used to make, Ron?) a really great looking set of jack stand pads that adapt directly to your car's hockey puck lifting pads. I would highly recommend these! It will take MUCH of the guesswork out of jack stand placement. www.unofficialbmw.com/ronstygar.html is the home of Ron Stygar's great site, and his de-facto report on how to properly jack up your car. Please read it before attempting to jack up your car!
---
Wheel Install/Removal

1- 1/2" Torque Wrench 30ftLbs-150ftLbs range (40nm-200nm) 1- 1/2" Braker Bar
1- 1/2" Drive, 17mm Deep 6pt Socket

Most wheels need to be torqued down to between 75ftLbs and 85ftLbs (taking into account big brake kits and wheel spacers for the 85ftLbs figure). Since 3/8" series tools are not designed for this amount of torque, you need 1/2" tools. Anyhow, the braker bar will come in handy later on when you need to brake the major torque on brake caliper holders, this is why I would not depend on a lug nut wrench as it does not offer the versatility of a braker bar. With a 1/2" to 3/8" fitting, the braker bar allows you to deal with high torque applications, and it will adapt the torque wrench to all these needs also. More on that later, I just thought I would explain why I am not recommending a lug nut wrench.
---
Bleeding Brakes

1- 7mm (or 8mm?) open end wrench*
1- Device for catching brake fluid that comes out of the caliper

Optional: Steve D Brake Bleeder Kit

*Note*
Some people say that they need an 8mm open end wrench for bleeding. I do not, and I am not sure about weather this is necessary. I was (and still am) under the impression that you only need a 7mm open end wrench. Corrections?

If you are a serious track runner, you will want access to a Steve D brake bleeder kit. Much nicer then having to get your SO to pump the pedal.
---
Replacing Brake Pads/Rotors

1- 1/2">3/8" adaptor (for fitting sockets to the braker bar) 1- 16mm 6pt shallow socket
1- 7mm Hex bit 3/8"
1- 6mm hex bit 3/8"
1- 3/8" Ratchet
1- 3" 3/8" extension
1- Big Flat Head Screwdriver
1- Flat nose pliers
1- C Clamp (for pushing the piston back)

Since BMW uses a single piston setup, if you have the calipers off in order to do a pad change, your only 1 6mm hex fastener away from taking the rotor off while your at it. Of course, there are some expendables here that you would want to do brake work (latex gloves, sandpaper for cleaning off the hub, brake pad goo ect.). The two 16mm bolts that hold on the caliper brackets are a real pain in the ass to get off, which is where the braker bar comes in handy. With the 1/2">3/8" coupler, you can smoothly apply plenty of torque.
---
Oil/Tranny/Diff Fluid Changes

1- 3/8" ratchet
1- 17mm 3/8" shallow 6pt socket
1- 17mm combination wrench (for pesky high torqued drain/fill plugs) 1- Stubby 14mm oil sump bit (for the diff) 1- Sharp curved pick, for getting off pesky 0-rings and used crush washers Ways of getting the fluid up into the car for the tranny and the diff.

For the old style metal oil filter housings with a 13mm bolt: 1- 13mm 3/8" socket
1- 3" 3/8" extension

For new style black oil filter housing tops 1- Facom:D.140
or- Snap On:FW76-14
or- BMW:90-88-6-117-330 (requires 27mm Socket)

That's pretty much what you need to do those three things...
---
Coolant Changes

1- 19mm Combination Wrench
1- Big Flat Bladed Screwdriver
1- Good sized Philips head screwdriver
1- Coolant Catch Pan
---
Spark Plug Changes

1- 1/4" ratchet
1- 8mm shallow socket
1- universal joint
1- 1/4" extension
1- 16mm Spark plug socket (long)

Of course, there is a torque spec on spark plugs (30nm), but most BMW techs I know just get them nice and snug. If you really want to do things "Proper" you would get a 3/8" torque wrench with a 10nm-50nm range. The biggest problem with a spark plug change is the #6 plug. It is obscured by the wiring harness holder.
---
One of the pleasures of owning a car is having a good SET of tools. Since I am about to buy a whole new set of tools myself, I have taken the liberty to include the sets of tools I am going to order. I personally am a Facom kind of guy, so all part numbers listed are from the Facom F96 catalogue. I think that the descriptions given above will let anyone with a good tool book select exactly what they need, but I still recommend Facom. The below list of tools includes EVERYTHING mentioned above (except where noted)
Sets:
1/4" Tools- [R.425EP]
3/8" Tools- [J.430DP]
Screwdrivers- [ASZ.3] (kit) + [AZB.4x25] + [AZPB.1x25] Pliars-[180E] + [387.20EG] + [193.16EG]
Wrenches:
Torque Wrench 1/2" 50-200nm- [S.206-200] Combination Wrenches- [40.7/40.8/40.17/40.19] (7mm/8mm/17mm/19mm)
*NOTE*
I am actually getting a whole bunch of combination wrenches (Facom Fast Action set 40R.JE17 and Microtech Combination Wrenches 39.JE10), however, this is rather expensive and you would end up with a lot of tools you won't ever use. I am a professional tool junkey, don't try this at home.
Other Stuff:
1/2" Braker Bar [S.141]
1/2" 17mm deep socket [S.17HL]
1/2">3/8" Couppler [S.230]
Hex Bits 6mm and 7mm [JT.6] and [JT.7]
14mm Stubby Bit [D.107-17]
C Clamp [271.A]
Spark Plug Wrench [B.J16-2]
Links:
Dale Beuning's very cool E36 pages are at http://www.unofficialbmw.com
(lots of tech procedure info)
Ron Stygar's Site (Lots of good stuff!) http://www.unofficialbmw.com/ronstygar.html
The Ultimate Garage (Facom tools, Steve D jack plates, brake bleeder) http://www.ultimategarage.com
Please tell me if I forgot anything...
Greg Koenig
Das Dinanstein
BMW CCA GGC
SFR SCCA, NMA
P.S.
I am sure my spelling sucks, but this took 2 hours and my spell checker was annoying me with alerts over words like "17mm" so I gave up on it.
Unofficial Homepages: [Home] [E12] [E24] [E28] [E30] [E34] [E36] [Z3] [E39] [E46] [X5/E53] [ALL] [ Help ]