Google Search

Search (Google!!)
Search Amazon.com
Home
E12
E24
E28
E30
E34
E36
Z3
E39
E46
X5/E53
ALL
Ron Stygar
Carl Buckland
Dale Beuning
Forums
Help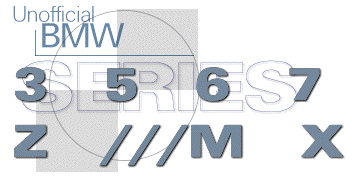 ---
Date: Wed, 10 Feb 1999 15:58:45 -0700
From: "Greg Koenig" <gregk_at_innrspc.com>
Subject: Re: [E36M3] Let's Rant About: Tools

My name is Greg, and I have a tool fetish. I am a complete tool junky. Ask Jim "The Bassett" Bassett about it, or Nitya "Unspellable Last Name" R, when it comes to tools, I love it!. Tools are what makes the difference between a crappy install and a slick as snot install. Repairing parts of your car with crappy tools can really be a nightmare=8A trust me. If your not a "mechanical" person, and you want to do your own work, are a track nut or just want to save money, your making an investment. Whatever car you own, you will always keep those tools. Don't buy crap tools, you won't enjoy using them, and hence you won't enjoy working on your own car. I am going to sum it up like this: A really great set of tools begs you to use them!
When you buy tools, the first thing you should do is look for a lifetime warranty. Any tool maker that even dreams of being serious in the industry carries one, and should replace tools without question. Second thing is quality. There are so many kinds of tools out there, I won't try to tell yo= u
exactly what to look for, but the neat thing about tools is that you can tell the quality as soon as you pick them up. Also look for innovation. Pic= k
up a couple of the thick catalogues that the major tool makers print up (these are sort of fun to look through for the fun of it, the Facom F96 catalogue is a work of art). Look for the companies that really are striving to offer innovative ideas. Good example is Facom's Super 3/8 series, and Snap On's great ratcheting screw drivers.
I struggled with how I was planning on being really nice on this next paragraph, but I guess I will just come out and say it: Craftsman SUCKS. Perhaps I am spoiled by the tools I have used, but I really hate their stuff. Will it get the job done? Yes. Will a Geo Metro get you to work? Yes. If your a really cheep person, go for Crapsman... The only good thing about them is the price. Example: Every testimonial I have ever seen on th= e
BMW lists over the last 3 years about Craftsman tools has always had this part in it, "And whenever I break a Craftsman tool, I go to Sears and they replace it!" No shit? How about buying tools that won't break in the first place. If your installing a set of brakes on Friday evening for a track school the next morning, and your 7mm hex bit snaps, and you can't put on the rotor set screw... your fucked. The point is to buy tools that are ove= r
engineered for use under the kind of stress you will NEVER put the tool under... Snap On and Facom both design tools that will take abuse you WON'T be able to mimic unless your a complete moron.
Now, I own a few Snap On tools, and I really like them. The quality is about the best it could possibly be for relatively simple hand tools that have had decades of improvements. You cannot go wrong buying almost ANY Snap On tool. However, I do NOT like Snap On's retail model for individual consumers. Finding a Snap On retailer is a bit of a hunt, and contacting that dealer isn't exactly easy. When the truck visits your local shop on a Tuesday, and you want a tool on Wendsday, you better be able to get a hold of the guy via his cell phone or pager, otherwise, you can't buy a tool. This retail model also completely undermines competition between dealers, s= o
Snap On can (and does) jack the fuck out of the prices. Good example. Duane got a "deal" with his local Snap On guy. One of the products they go= t
a deal on was a standard depth, 3/8", 12pt metric socket set from 7mm-16mm... the discount price was $130!!! That's $14.50 for a socket they forge out by the millions! They are smoking something if they think I am going to continue paying these prices.
So, why did I buy Snap On? Because, I didn't know about the world's largest tool maker, Facom of France (FACOM actually stands for French/American Tool Manufacturer... in French). Facom owns S&K (Craftsman prices with good, bu= t
not great quality) and USAG (factory tools for Ferrari). Facom is the tool of choice for the BMW factory floors as well as Mercedes, Audi, VW, Porsche and a bunch of other European auto manufacturers. Your car was put togethe= r
with Facom tools...
The quality on a Facom tool is beautiful, and their design is very innovative. Where Snap On's hand tools aren=B9t breaking any major ground (they look just like Craftsman tools, only with much improved quality) on innovation, Facom's Palm control ratchets are a wet dream to use. The handles are all molded high impact plastic that is much more comfortable in the hand then the small metal handles of most Snap On ratchets. The build quality on a Facom tool is just as high as Snap On's for the most part, the= y
both score 100% on quality, but I think Facom is 100% on innovation, with Snap On scoring a 90%.
How much would you pay for the slick design, impeccable build quality and European brand name of a Facom tool? Well, let's look at a set of sockets. How about standard depth, 3/8", 12pt OGV design (Facom's name for "Anti rounding off nuts" technology) on a rail to you for... $32... How about a full on 3/8" ratchet kit? Full case, 14 6pt sockets (8mm-22mm, the effectiv= e
range of standard 3/8" tools), the cool palm control ratchet, bit holders with an assortment of bits, a 125mm extension, a 250mm extension, a universal joint and a t-handle... $150. Let's see any Snap On deal beat that!
I am currently writing a list of tools that you should own if you are a serious track junky/DIYer (including Snap On and Facom part numbers).
Greg
Unofficial Homepages: [Home] [E12] [E24] [E28] [E30] [E34] [E36] [Z3] [E39] [E46] [X5/E53] [ALL] [ Help ]