Home
E12
E24
E28
E30
E34
E36
Z3
E39
E46
X5/E53
ALL
Ron Stygar
Carl Buckland
Dale Beuning
Forums
Help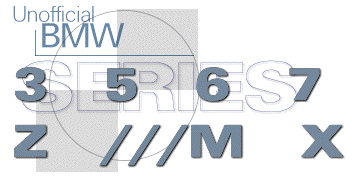 ---
---
From RonStygar_at_aol.com Fri Apr 3 18:38:08 1998
From: Ron Stygar <RonStygar_at_aol.com>
Date: Fri, 3 Apr 1998 21:35:10 EST
To: celler_at_gunster.com
Cc: dale_at_unofficialbmw.com
Subject: <E36> Lets jack it up at the track
Craig,
I found a Rally # 9340 3 ton check at Pep Boys for $59.95. It weighs 47 pounds. Its range is 7 1/4" up to 21" using its extender. If you remove the extender its maximum height is 19".
With the extender removed (cotter pin), Steve's jack plate fits the jacks cup perfectly. The cup also accommodates the BMW jack point perfectly. If you turned down the base of Steves jack plate slightly you could leave the rotating extender in place. This means we don't need a jack adapter for the Rally # 9300 jack and a spacer for Steves jackplate. Just purchase the jack and you're all set.
The # 9340 is more stable
and appears to be of higher quality. I'll try to return the # 9300 jack. The hardware I purchased would also be of no use. Now I'm glad that the machinist didn't show up last Friday. Does the above satisfy your requirements? This is what I'm going with.
Ron
p.s. I tried the new jack on the ti. With an unmodified stand the outer wheels of the Rally jack come off the floor (but it works) because of the height you have to go. It is also a direct result of having to position the jack parallel to the length of the car as required by Steve. As you go higher with the jack, the jackplate being fixed trys to pull the cup towards the car. Since the jack is parallel, it ends up lifting the outer wheels if you go high enough. If you position the rear wheels of the jack perpendicular this is less of a problem, since the rear of the jack will now move with the car. This would not be a problem if you positioned the jack perpendicular to the car. If you do that there is no room to place a jack stand. If you modify the stands to go 1 inch lower, the jack wheels stay on the ground. If you modify the stands to go 2 inches lower this is ideal. This scenario would be worse with the Rally 9300 jack.
Unofficial Homepages: [Home] [E12] [E24] [E28] [E30] [E34] [E36] [Z3] [E39] [E46] [X5/E53] [ALL] [ Help ]