Home
E12
E24
E28
E30
E34
E36
Z3
E39
E46
X5/E53
ALL
Ron Stygar
Carl Buckland
Dale Beuning
Forums
Help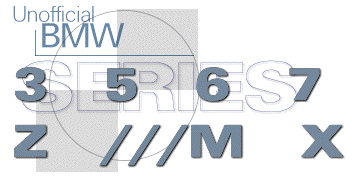 ---
---
From digest.v7.n117 Fri Aug 15 13:21:58 1997
From: ingraham_at_sunspot.ssl.berkeley.edu (Curtis A. Ingraham)
Date: Fri, 15 Aug 1997 09:25:31 -0700
Subject: <ALL> Metal Valve Stems

I find that checking and adding air to tires is much easier when the valve stems are metal rather than rubber. The metal stems hold steady when I lean on them with an air chuck or gauge, while the rubber stems squirm around. I've tried a couple of aftermarket generic valve stems on BMW alloy wheels and found them to be unsuitable. The BMW stems, part number 36-12-1-119-332, about eight US dollars each, work perfectly on most BMW alloy wheels.
Since you would normally install new stems and balance the wheels/tires when you get new tires, that is the perfect time to switch to metal stems.
I've heard that BMW issued a service bulletin regarding a problem with these stems. Can anyone provide the details or relate an experience with that problem? Thanks.
Curt Ingraham
with E30 alloy wheels and metal stems
Unofficial Homepages: [Home] [E12] [E24] [E28] [E30] [E34] [E36] [Z3] [E39] [E46] [X5/E53] [ALL] [ Help ]