Home
E12
E24
E28
E30
E34
E36
Z3
E39
E46
X5/E53
ALL
Ron Stygar
Carl Buckland
Dale Beuning
Forums
Help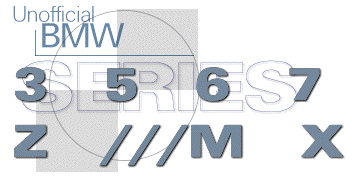 ---
From RonStygar_at_aol.com Thu May 1 22:42:20 1997
To: jfiresto_at_awi-bremerhaven.de, dale_at_unofficialbmw.com
Subject: <E36> Radio Connector / Crutchfield adapter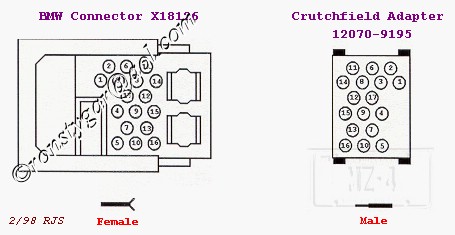 When you purchase a head unit from Crutchfield 1-800-955-3000, you receive an adapter at no additional charge. This adapter plugs into the connecter that you unplug from the stock radio. Via bullet type connectors supplied by them, you connect the wires from this adapter to the wires from the new head unit. This adapter fits my '96 328is with Harmon Kardon and will also fit my '97 318tis with the 10 speaker system. It should fit any E36 with the 17 pin X18126 radio connector.
If you do not purchase a system from them, they will sell you the adapter 12070-9195 for $9.00. The bullet type connector package 263BC sells for $2.95. The antenna adapter 100VWADAPT sells for $10.00. What this means is that you may purchase virtually any head unit and install it without disturbing the stock wiring.
Although contrary to some posts on the main Digest, I have been dealing with Crutchfield for many years as a satisfied customer. I highly recommend them.
---

 BMW CONNECTOR     PIN    CRUTCHFIELD ADAPTER      FUNCTION
 FEMALE X18126      #     MALE 12070-9195

  .75  YELLOW/RE    1     WHITE                    LF CHANNEL +
  .75  BLUE/RED     2     GRAY                     RF CHANNEL +
  .75  YELLOW/BLACK 3     GREEN                    LR CHANNEL +
  .5   WHITE/BROWN  4     EMPTY                    TELEPHONE MUTE
 1.5   VIOLET/WHITE 5     RED                      HOT in ACCY, RUN and START
  .75  BLUE/BLACK   6     VIOLET                   RR CHANNEL +
  .35  YELLOW       7     EMPTY                    I-BUS CHANNEL +
  .35  YELLOW       7     EMPTY                    I-BUS
  .75  BROWN/ORANGE 8     WHITE/BLACK              LF CHANNEL -
 1.5   RED/WHITE    9     YELLOW                   HOT _at_ ALL TIMES
  .5   BLACK/WHITE  10    EMPTY                    VECH./SPEED SIG.
  .75  BROWN/ORANGE 11    GRAY/BLACK               RF CHANNEL -
  .75  BROWN/ORANGE 12    GREEN/BLACK              LR CHANNEL -
  .5   GRAY/RED     13    ORANGE                   ILLUMINATION
  .75  BROWN/ORANGE 14    VIOLET/BLACK             RR CHANNEL -
 1.5   BROWN        15    BLACK                    GROUND
  .5   WHITE        16    BLUE                     ANTENNA CONTROL
                    17    EMPTY

---
---
Date: 2 May 1997 20:57:32 -0400
From: Craig & Melanie Wiswell <wiswell_at_santanet.com>
Subject: Re: <E36> Radio Connector / Crutchfield adapter

I would like to add a suggestion. I found when using the Crutchfield system that you ended up with a bunch of wiring to stuff into a small hole. What I did was remove the wires from the Crutchfield harness, bought new pins from my local BMW dealer. Pinned the new head unit and inserted the pins into the connector from Crutchfield. Which then plugged right into the car's harness. The advantages of this I found were there are no splices in the harness at all, and it cuts down on the amount of wiring you have to stuff into your dash. Being a member of the Air Force and doing electrical work daily I can vouch for the fact that the fewer connections you have to make the better and also improves reliablity.
Unofficial Homepages: [Home] [E12] [E24] [E28] [E30] [E34] [E36] [Z3] [E39] [E46] [X5/E53] [ALL] [ Help ]