Google Search

Search (Google!!)
Search Amazon.com
Home
E12
E24
E28
E30
E34
E36
Z3
E39
E46
X5/E53
ALL
Ron Stygar
Carl Buckland
Dale Beuning
Forums
Help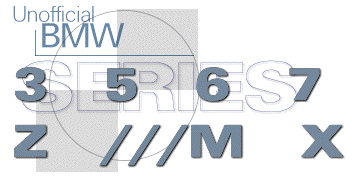 ---
Also see: http://www.unofficialbmw.com/e34/stereo/e34_ads_stereo_upgrade.html
---




> ...Certain comments proved especially
> useful, including the post from Frank (fmwong), who pointed out that "the
> factory head [unit] does not have RCA plugs which means you'd have to hook
> up the amp through line level converters.  This has the potential of
> creating or picking up engine noise."  My installer responded to this
> concern be saying that this depends on the quality of the line level
> converters used.  He insists that if good quality ones are used, this
> should not be a problem.




> With the output levels of the BMW radios, a line output 
converter is almost always unnecessary.  We have three 
in our parking lot without them and without noise too, 
and I've personally done at least a half dozen 
more for friends. Simply choose an amp with a reasonably 
wide input sensitivity range.  Connect the positive 
speaker output to the center conductor of an RCA jack.  
Connect the RCA jack shield connector to the head unit 
chassis NOT to the negative speaker wire. You can do this 
right at the radio or you can even do it at the 
amplifier end of the factory BMW harness for models which 
had the separate amp. Then set the amplifier input 
sensitivity so that the aftermarket amplifier reaches full 
output when the BMW radio volume control is 
pointing to the three O'clock position.   




> Frank and Cary McReynolds both expressed concern that the MB Quart speakers
> can have a bright sound to the point of being annoying.  My installer
> agreed that this can be true if they are underpowered.  However, if they
> receive adequate power, the sound should continue to sound good in the car,
> as well as in the showroom.




Do a lot of listening before you buy.  The frequency 
response of a speaker system is not going to change with 
power, only it's dynamic range. This is not going to 
change their "brightness", only the amount of distortion 
you hear at louder levels or on musical peaks. Maybe this 
is what your installer is hearing. Try to get the 
dealer to let you hear the speakers they recommend in a 
car.  If they really feel that they are good speakers, 
somebody that works there probably has them in their car. 
The speaker choice is probably the most significant 
in your overall satisfaction with the system, so don't 
rush it and use your own ears, not just a 
recommendation.




Best Regards,
Bob Hazelwood
VP Product Management - a/d/s/


---

From digest.v4.n785 Fri Jun 28 18:48:11 1996
From: Bob Hazelwood <woodyh_at_ix.netcom.com>
Date: Fri, 28 Jun 1996 21:25:47 -0400
Subject: Re: A "sound" decision





"Richard D. Birkenstock" <Richard_D_Birkenstock_at_cstar.ac.com> wrote:
... I've picked up on a couple of side



> comments from folks talking about the latest awesome thing they did their 
> car's sound system.  ...give folks some food for thought about that money
> being spent or in my opinion wasted on high end electronics...
> 
> Ask any acoustic engineer and they'll most probably agree that a car is
> practically the WORST place to listen to music ...
I will admit that car manufacturers are making great



> strides to purposely think about speaker placement and sound but no amount of
> premium electronics and engineering will ever surmount all of these factors.
  Cars are meant to be driven - especially your BMW!



> Turn the damn stereo off from time to time, roll the windows down and listen
> to your car...Spend the extra cash on your home system or a different 
> accessory for your car instead.  The standard BMW hi-fi system on any new 
> model is plenty adequate in terms of quality and power - take the stock M3 
> for example, 10 speakers, 250 Watts of Pioneer/Alpine engineering.




Hi Rich,
As a recent list subscriber I have done more reading 
than posting so far but your post happened to strike a 
sensitive chord with me so I've got to respond!  The 
fact that I am in the business of designing car audio 
equipment certainly will help explain my differing 
opinion from yours. I would begin with friendly 
disagreement with your first point - the car is a great 
place to listen to music! It's a private, intimate 
space with fixed and controllable acoustics which are 
predictable and easily compensated for.  In addition, 
the average person spends a significant portion of 
time commuting solo in less than sporting traffic 
conditions. I personally find the time and money 
spent on the sound system infinitely more valuable 
to me than similar investment in suspension and power 
improvements when I am averaging 15MPH on the Long 
Island Expressway at rush hour.  On a nice twisty 
road in good weather and light traffic - yeah, turn 
off the stereo, roll down the windows and enjoy the 
car.  Unfortunately I seem have about 14 of the former 
trips for every one of the latter, which sometimes makes
 me wonder why I even bothered with the performance 
stuff. You suggest spending the extra money on your home stereo.  

Unfortunately everytime I try to listen at home, my wife complains, 
the baby cries, the phone rings, or something else spoils the mood. 
 It would seem that I am not alone here.  In the course of my work, 
I have been involved with a number of consumer focus 
groups in order to understand our customers needs and behaviour.  
It was consistently revealed that home audio listening has primarily 
become a background music or home theater activity.  Statistically 
the majority of people do their most serious music listening in the 
car!  This is why the car manufacturers have finally begun 
to offer systems which are not as woefully incompetent as they once were.  

This is also why the car audio aftermarket continues to thrive even 
after the critics said that the improvement in OEM systems would kill it.
Properly done, a good car audio system can add significantly to the total 
ownership experience.  It doesn't have to be unreasonably complex and 
expensive, but logical high quality upgrades can make even mediocre 
systems, like the ones BMW offers, sound musical.  I'm not referring to the
excesses practiced by the "Death by Decibels" crowd, who would not think 
twice about adding 500 pounds of subwoofer enclosure to the trunk of 
an M3.  Nor am I a fan of the all highs and all lows rapmaster school of 
system design, but the speakers and amplification of even the high-end 
BMW OEM systems are pretty limited in their fidelity. The BMW systems tend 
to have "screechy" highs and bass with no real power, definition or clarity. 

Even the midrange, which is actually pretty simple to get right, lacks 
warmth and is dynamically compressed. Sensible upgrades here can 
provide real improvement without getting into significant vehicle alterations 
and excessive expense.  The radios and CD players on the other hand perform 
in many cases as well as one you would get in the aftermarket so it doesn't 
make a lot of sense to change them.  If you are happy with the M3 system 
then put your money elsewhere, we all know there are plenty of good places 
to spend money on your Bimmer!  But before you miss out on an opportunity to 
enjoy your M3 even more check out the factory system in a 1991 or 1992 Range 
Rover County SE (they went downhill after '94) or a Lexus GS300 and 
see if you're still happy with BMW audio.




Happy driving!




Bob Hazelwood
V.P. Product Management, a/d/s/




'87 325 (229kMi, original clutch! Nakamichi, a/d/s/, JBL, Audio Control. Racing Dynamics, Veloz, Momo)
'96 M3 on the way


---


 Originally Posted by Bob Hazelwood

I am suprised that more people STILL do not know what is going on in BMW
audio systems. Heck, until the dreaded DSP came along they really
haven't changed much in years!

First. The head unit does not "suck". In "objective" terms, the response
range, dynamic range, FM tuner capability etc of the BMW head unit is
comparable to some of the better aftermarket units. I've had quite a few
units on the test bench as the result of my previous two jobs (VP
Product management as a/d/s/ and Product and Marketing Manager for
Mobile Audio at JBL). The characteristic which can give you the wrong
impression if you don't take it into account when adding upgrades, is
that the BMW head unit is equalized. There is a bass boost which varies
with level, and the top end is rolled off. This is the cause of the big
change you hear with a new head aftermarket unit while keeping the BMW
amp and speakers. If you know this going into an upgrade exercise, you
can compensate for it in the system design and get superb results using
the factory head unit/CD changer. Output voltage is most definitely NOT
.2V as stated. Actual clipping occurs at around 5V., ( I measured 5.25V
on the bench on the Pioneer unit from my E34. I have measured similar
output from various Alpine heads from E36's) so I would call it a
nominal 4V unit (making allowances for low battery voltage under some
conditions). So there is plenty of available output voltage to put into
an aftermarket amp with low noise and high fidelity. At the same time,
even if it wasn't this high, the output voltage has little or no effect
on the sound quality other than the level of background hiss. All it
effects is where you have your input sensitivity controls set on the
amp. With a high voltage head unit, you can keep the input gain controls
turned down, making the amp less susceptable to noise pickup. Issues
such as frequency response, distortion, separation etc. have absolutely
nothing whatsoever to do with the head unit's output voltage. Matt
correctly in that the BMW head unit reduces bass at high levels. More
specifically it does not "cut" bass, but reduces bass "boost". This
helps save speakers at high volumes, and if you calibrate the amplifier
adjustments of add-on equipment well, it can work in your favor by
adding a very useful loudness compensation, where bass is boosted at low
levels to compensate for road-noise masking and the ear's reduced
sensitivity to bass at low levels.

Second. There is no crossover in the BMW head unit!(at least in the USA).
The crossover is in the BMW amp. It is a passive crossover at the output
of the four-channel amp. There is nothing high-tech about this, it's a
regular old passive crossover made from run-of-the-mill capacitors and
inductors. They are just located inside the amp chassis instead of
between the amp and the loudspeakers. And no, it's not ten 25W channels.
The amp is four channel, and by Hi-Fi standards puts out 15W/channel.
Yep, that's all folks. The crossover for each corner of the car is at
the output of each channel, and divides the spectrum appropriately for
the drivers on that channel. The only problem with this set-up is that
you don't have a powered full range output to drive aftermarket speakers
that you can get to with without tearing the amp apart and making an
internal connection. This pretty much forces you to replace the amp as
part of a speaker replacement just so you can get a full-range signal.
The E39 DSP system is another animal all together, which is beyond
anything you probably want to consider upgrading. Its possible, but not
easy.

So, the bottom line is that if you find that audio performance is
important to your vehicle enjoyment, there are alternatives to having to
gut the entire system which can give superb results IF you know the
quirks of the BMW system going in. If you treat it like the system in a
Honda or Chebbie when you try to upgrade your system, you'll be
disappointed.

Best regards,
Bob Hazelwood
Product Manager, Cambridge Soundworks
'93 525i 5-sp. Sharked, BL/ss'd, H&R + Bilsteins
a/d/s/ 335is front, A5is rear, 310rs sub, P2110 sub amp, P840 main amp,
Factory Pioneer head unit and CD
BMW CCA (Boston)


---

Posted by Bob Hazelwood on February 12, 1999 at 11:20:57:

In Reply to: 98 5Series Audio Upgrade? posted by Dj Kang on February 11, 1999 at 23:55:55:

Good equipment choice ;-)
Installing the equipment you have is actually pretty simple. Your dealer is probably getting confused 
by the two-chassis radio in the front. The thing in the dash is just a display/control panel. The radio 
is a "black box" mounted out of sight. That's where the tuner and preamp circuitry is located. The 
amplifier is in the trunk behind the CD changer.

First, In an E39, E38, and E46, don't even think about replacing the head unit! Unless you have just 
won Powerball, it's not worth it. It will be an improvement, but it will be a small one and not worth 
the time and effort. The actual radio/cd electronics in the factory system are suprisingly good. It's 
just that you can't tell that through the factory amp and speakers. Have your dealer ignore everything 
electronic forward of the back seat, and simply pull out the factory amp behind the CD player. Everything 
they will need to connect the new system will be right there.

You have four channels of signal from the radio, 6 pairs of speaker wires from the front system (2 woofers, 
2 midranges, 2 tweeters), 4 pairs of wires from the rear (2 woofers, 2 tweeters), remote turn-on wire 
(white), power, and ground. The only wire that should not be used is the power wire, because it is too 
small for the new amp you have. (The ground is kind of small too, but it is a short run so the resistance 
is much less than on the power wire. It won't hurt to run a new one, but it's not absolutely necessary.) 
Fortunately, running a new power wire is really easy with the battery in the trunk.

Connecting the P840 then becomes a simple matter of removing the proprietary BMW plugs from the harness, 
and replacing them with appropriate connectors to mate with the P840. In order to facilitate easy 
replacement of the BMW system in my own car (E34), I cut the BMW harness back 6" from the factory connecors. 
Then, I purchased Molex "Mini-Fit Jr." series connectors from Digi Key Electronics (http://www.digikey.com).
I installed these connectors on the BMW harness, and their mates on the part I cut off. This way I can just 
plug it back together when I'm ready to put the car to pasture. Then I made another set of cables with the 
Molex connectors on one end and connectors on the other end to mate with the amps/crossovers. I used a 
12-pin connector for the front speaker wires, an 8-pin for the rear speakers, and a 10-pin connector for 
the signal from the radio, ground, and remote turn-on. You could probably put these all on one connector, 
but I like to separate them by function since I do a lot of experimenting.

The four radio signal leads should ultimately terminate in RCA plugs and connect directly to the P840 
inputs. The speaker leads will connect to the outputs of the respective a/d/s/ crossovers, and the only 
"new" wiring will be from the P840 speaker outputs to the inputs of the a/d/s/ crossovers. This will be 
standard speaker wire. I wish I could help you out with the color code, but I've been unable to get my 
hands on E39 documentation so far.

The speaker installation is pretty easy for any installer worth paying, There will be a little "futzing" 
to get everything sealed and solid, but no more than any other car, so this should not throw anybody for a 
loop.

Do NOT let your installer run new wires up front for the signal from the radio. You WILL get alternator 
noise! There is NOTHING better than twisted pair wiring for running low-level signal in a noisy environment,
and that's what BMW already uses! Don't fall for the marketing hype of expensive audio cables. This is not 
home audio, the priorities are different. (Guess I better put my flame suit on now) Speaking of flames, pay 
for good wire, fuse block, and connectors for the power wiring though. It's a safety issue.

Subwoofers can take a lot of forms, depending on what you are after. In the DSP system, BMW cuts a couple of
3" holes in the rear deck for a bandpass enclosure. You can also cut through the center of the rear seat 
area (where the ski-bag option goes), for a 10" or 12" driver. This could be in an enclosure or infinite 
baffle. You can also get pretty good results without cutting anything if the subwoofer is powerful enough, 
but it's better to cut. The Ski bag area is not really structurally significant, early 5's had a punch-out 
panel there. It's basically left in place for noise reduction. (I wouldn't go overboard with the cutting 
though!)

Best regards,
Bob Hazelwood
VP Product Management, a/d/s/
'93 525i 5-sp. Sharked, BL/ss'd, H&R + Bilsteins
BMW CCA (Boston)
http://www.adst.com

: I have a 98 528i Sport Package with non premium sound system. And I was planning to upgrade my 
: stock audio system. I went to couple of audio dealers around my town, however, I didn't get any 
: clear answer from any of them. Because new 5 series has longer face unit, it is difficult to install 
: with din size face unit. And also, if I stick with factory face unit, it is also difficult to upgrade 
: amp and subs. Because, bmw audio uses factory amp as a tuner. I already bought A/D/S/ 335is 336is 
: speakers and P840 amp. I also wanted to get subs and new face unit for my car. I will be appreciated 
: if anyone tell me how to upgrade my lousy stock audio system.


---

In Reply to: Upgrade my E39 DSP sound system-Atn. Bob Hazelwo posted by Bernie on March 02, 1999 at 14:37:42:

The best "guaranteed" improvement for the DSP system is a subwoofer and sub amp upgrade. A speaker upgrade 
is risky because it is not possible to undo the digital electronic crossover which is matched to the Nokias.
It is doubtful that even much better speakers will end up sounding better since the BMW crossover will be 
very unlikely to match them well. It's possible it could work, but it may require quite a bit of 
experimenting.

I'd suggest adding an amplifier and a real subwoofer, and see if you think further improvement is necessary.
There are a number of good options. My ex employer, a/d/s/ makes some excellent products. I'd recommend a 
P2110 power amp driving a 310rs 10" subwoofer. If you don't have a local a/d/s/ dealer, any quality brand 
will have suitable equivalents. Look for Willard Lee's "installed a subwoofer this weekend" post below.
With the DSP system, you'll need to take the output after the factory amp, which is not ideal but for 
subwoofer use is probably not worth going in the box and tapping into a preamp signal.

If you're not happy after this, the next step is to upgrade the front speaker amplification. For this 
you will want a 6-channel amp, such as the a/d/s/ P640. With this step, I would recommend keeping the 
factory mids and tweeters because of crossover matching, but upgrade the 5-1/4" midbass drivers. I use 
the woofers from the a/d/s/ 335is system in my E34. The reason this will work OK is that with the new 
amp, you can compensate for the lower efficiency of the new midbass speakers using the amplifier gain 
controls. The factory amp does not have this capability, and pretty much any aftermarket speaker you are 
likely to be able to put in here will be less efficient than the Nokias. However, this lower efficiency 
will be offset by greater output and bass capability out of the new speakers. I would strongly suggest 
using a 6-channel amp in lieu of three 2-channel ones to avoid the noise problems common with multiple 
amp systems. As the final step, add another four-channel amp to the rear system, keeping the factory 
speakers. With the a/d/s/ amps you can connect the amplifiers to the factory amp using the connection 
described in the owner's manual for floating ground high power amps without needing to add line-output 
adapters. You should consult with your dealer regarding other brands, they may require these adapters. 
Optimally, a technician could install line outputs to the DSP amp by tapping into the signal at the input 
pin to each of the BMW syatem's internal amplifier IC's, but even without this, a good signal is available 
from the main outputs when these outputs are not driving a speaker load directly.

Best regards,
Bob Hazelwood
Product Manager, Cambridge SoundWorks
'93 525i 5-sp. Sharked, BL/ss'd, H&R + Bilsteins
BMW CCA (Boston)

: OK, I like the sound of my "premium" system, but I still feel the speakers and specially the subwoofer 
lacks quality and power. I noticed the speakers read NOKIA, perhaps changing to ADS or Boston Pros will 
make a huge diff from day one.

: Anyway, I know there are several posts on this issue, (how to, etc) but I have not seen a good LIST of 
thing to buy and the est. price for each component (and model#, etc)

: I dont want to spend too much on this upgrade (I think I already did it so), maybe the stock amp will 
be good enough. But definately looking for noticeable improvement on both sp. quality, power, and sub at 
least. I like rock music and top 40s at moderate volume levels. Maybe once in a while I'd like to crank 
it up, but surely w/o compromising quality.s
: My E36 325 had Alpine CD, 6 Boston Pros sp, Alpine 150x4 amp, and no sub. Great sound.
: HELP
: Bernie
: 97-540iA


---

 Re: Aftermarket Audio for E39? (archive).

Posted by Bob Hazelwood on January 08, 1999 at 01:42:22:
In Reply to: Aftermarket Audio for E39? posted by Jeff Kane on January 07, 1999 at 22:55:31:
You have been misinformed about the difficulty of upgrading an E39. You do NOT have to upgrade the audio 
after the factory amp. THis is costly, complcated, and basically just asking for trouble. It will not work. 
The best place to pick up the signal is BEFORE the BMW amplifier, where it is a standard 4-channel common 
ground signal. Simply plug this into any aftermarket amp which can handle a 4V signal. No problem, No noise.
You can even use ALL of the already installed BMW wiring for signal to the new amp and from the new amp and 
the speakers. If the installer knows what he is doing, the E39 actually is one of the most simple vehicles 
to upgrade on the market. If a dealer tries to tell you differently, don't let them get anywhere near your 
car. They don't know what they are doing.

See our site at http://www.adst.com for a few ideas.

Best regards,
Bob Hazelwood
VP Product Management, a/d/s/
'93 525 5-sp, BL/ss'd, Sharked, etc.
BMW CCA (Boston)

: Ok, so even with the premium audio I STILL didn't like the way the stereo in the 540i sounds. Sad that 
BMW gets EVERYTHING else right and then puts in a stereo that is blown away by what's in a Caddy Seville.
: In any case, I took the plunge and upgraded the stereo. What an ordeal! You must hook the sundry 
equipement AFTER the BMW amplifier... Mind you this entails 12 channels of amplification (separate 
channel for each speaker driver). But it's still not right, the noise levels are too high! Does anyone 
know of a way to put an aftermarket radio in an E39 without completely trashing the dash and losing 
telephone functions? I remember Sony doing a concept car using an E39 but can't find the article ANYWHERE!


---


Re: More Info On Sound System Upgrades... (archive)

Posted by Bob Hazelwood on June 07, 1999 at 10:06:39:
In Reply to: More Info On Sound System Upgrades... posted by jvr on June 04, 1999 at 20:33:30:
: Folks:
: The sub was a little weak for my taste, but the rest sounded pretty nice. It was actually a little heavy 
: on the high frequencies, but that could be because of the weak sub.

This can be a result of the installers personal preference as much as that of the equipment. An 8" sub may 
be a little small for a relatively large E34/E39, but unless it was distorting, the thin sound was probably 
the result of the installers preference in the set-up. This points out one of the major concerns in the 
final satisfaction you will have with a sound system. Make sure that your installer is willing to let you 
be a participant in the set-up process. Take the time to spend the final hour or so of the installation 
working with him/her to set up the overall balance to your taste. It'll be worth the time.

: Replacing the amp in the trunk is an easy task on the E39. I foresee one MAJOR problem with this setup 
: however: calculating and adjusting the crossover points for the factory speakers. The guy I spoke with 
: wired his like this...
: 40w to each front channel (tweet+mid+woof=1 channel)
: 40w to each rear channel (tweet+mid/woof=1 channel)
: 40w to sub (he has a dual voice coil sub, so it's got 2 separate stereo channels wired to it)
: Total of 6 channels on the P640 amp
: I do not know how he did the wiring to string the tweet+mid+woof onto one amp channel. In the E39 each 
: speaker has it's own separate channel and the amp internally crosses them over. This raises another huge 
: question. How do the 3 individual speakers get crossed over in this setup? He didn't mention adding any 
: crossovers. Maybe the E34 does have external crossovers, but I know the E39 does not.

Neither does the E34. I assume that the installer fabricated some type of passive crossover for the task. 
Otherwise the tweeters would probably be blown by now. It is possible to do, but doing it to the level of 
a factory engineered crossover is usually beyond the level of most installers. Not because of inability, 
some guys out there are REALLY GOOD, but because of lack of time and/or sophisticated equipment. This can 
also contribute to the bright frequency balance you commented on. The tweeters and midrange drivers are a 
bit more sensitive than the woofers in the front, and need some attenuation at the crossover to sound 
balanced. Perhaps the guy is running them flat out, resulting in a treble boost.

: So, I just wanted to share this information because I have not heard of anyone just replacing the amp. 
: I'm hoping Bob Hazelwood will read this and have some comments (The guy I spoke with knew you)

Kewl. Who was he?

: On the difficulties associated with calibrating this setup. I know you already commented on your setup 
: and the approximate crossover frequencies used. I'd like to find out how to actually do this calibration 
: and give this proposed setup a try. I'd hate to drop my car off and pick it up at the end of the day with 
: the work completed. I get serious satisfaction doing this stuff myself and knowing how to tweak it is very 
: important to me.

The Nokia speakers are pretty picky when it comes to the crossover. I have only done active set ups using 
the factory speakers, so I am not a big help when it comes to passive crossover recommendations. I only 
know the starting points I would pick for the tuning process. My inclination would be to start with the 
following passive crossover components:

Woofer: .50mH inductor in series with the positive wire. 25uF cap in series with a 4-Ohm resistor, and this 
combination connected in parallel to the woofer.

Midrange: 2.5-Ohm resistor, 6.8uF cap, and .05uH inductor all in series, with the resistor first in line 
(closest to the amplifier) and the inductor closest to the speaker. This group in series with the midrange.

Tweeter: 2.0 Ohm resistor and 2.2uF cap in series with the tweeter.

Keep in mind that I am not saying that this is the optimum crossover. It's just the components I would pick 
to start the tuning process with if you like to tinker. These suggestions are simply in the ballpark, not 
necessarily in the right seat.

BTW. For those of you intereseted in an independent test of the a/d/s/ speakers, the October 1998 issue of 
Car Audio and Electronics has a comparison test of the 335is against the Focal, Dynaudio and Infinity 
competitors.

Bob Hazelwood
'93 525i 5-sp. Sharked, BL/ss'd etc.
BMW CCA (Boston)



---



Re: Bob, could you rate the different setups ... (archive)(archive).

Posted by Bob Hazelwood on May 28, 1999 at 08:24:33:
In Reply to: Bob, could you rate the different setups ... posted by Glenn on May 27, 1999 at 07:56:44:
: on a scale of 1-100?
Hmmm. Thats hard to do since it is so subjective. If we start by derating the max 100 by 20 points based on 
the theory that everybody thinks his own setup is better than everybody else thinks, then I'd call the first 
(Passive crossover 2-way) setup a 70 and the full active setup a 78. However, it's really easy to make the 
active set-up a 2 with the wrong settings, and its hard to make the passive set up lower than a 60. For the 
purpose of scale, I'd call the factory BMW system a 40, and a factory Honda Civic system a 50.

How much of a difference does biwiring make compared to a standard setup?
In terms of the basic system sound, not much. What I like about it is that you can fine tune the relative 
woofer/tweeter levels, where just using the switches in the crossover gives you a comparatively 
coarse +/- 3dB adjustment. This gives more flexibility in allowing for different woofer and tweeter 
locations than those which may have been assumed when the speakers were designed.

Using active crossovers compared to the passive ones?
A _properly set_ active can be cleaner and more dynamic than a typical passive. With a top end speaker 
like an a/d/s/, Diamond Audio or an MB Quart with the Musicomp crossovers the difference is actually 
pretty subtile. This is because those crossovers use high quality air core inductors and film capacitors 
in critical places. With speakers that use Iron-core inductors (IMHO one of the worst sins of compromised 
speaker designs) like Boston, JBL, et.al. the difference is more significant. The big problem with actives 
is setting them. The subtle clarity improvements are trivial compared to the not so subtle frequency 
response errors that will happen if they are not perfectly set.

Does bridging make an audible difference at less than loud levels?
Not really. In fact, on a strictly sound quality basis, bridging is bad. An unbridged amp is theoretically 
better, but this is on paper. The difference is so subtle that its audibility is doubtful. The advantage is 
strictly higher power, and the only time you'll hear a difference is if your power needs exceed the 
unbridged power, causing the amp to clip for more than a few milliseconds. If the lower power amp doesn't 
reach maximum power, then there is no prctical advantage to the bridged amp. However, with that said, it's 
unbelievable how much power is actually used on an instantaneous basis. I read that Bob Carver once 
demonstrated that it took over 1000W of instantaneous power to accurately reproduce the sound of a pair 
of scizzors at the same level which occured naturally when using a typical pair of bookshelf speakers of 
the day! However, again experience shows that this is theoretical, because the distortion which occurs in 
this example is so instantaneous that it is of negligeable audibility. It is however an interesting 
fun-fact :-)

Best regards,
Bob

: Glenn
: : : Bob:
: : : How did you configure the amplifier's 8 channels?
: : Because my job (prior to March 1) involved evaluating various new car audio products and systems, I've 
actually had quite a few configurations of the P840 since it was installed. The configuration I recommend 
to someone who does not have a full acoustic lab at their disposal like I do is:
: : channels 1/2 to the front (335is) tweeters through the passive (335is) crossovers set to "bi-wire" mode
: : channels 3/4 to the rear (A5is) speakers through the passive crossovers of the (A5is) set for 
conventional single-amp use.
: : channels 5/6 bridged and 7/8 bridged and sent to the front (335is) woofers through the (335is) 
passive crossovers.
: : The BMW midranges are left disconnected.
: : The P2110 drives the sub.
: : The actual configuration that I personally like the best, and what I am currently running, is like this:
: : ch 1/2 front a/d/s/ 335is tweeters using the P840's active crossover set around 5kHz.
: : ch 5/6 front BMW midranges, again using the P840's crossover set for a bandpass of approx 2kHz-5kHz
: : ch 7/8 front a/d/s/ 335is woofers set for a low pass of approx 2kHz.
: : ch 3/4 running the rears as above.
: : I say "approx" on the crossover frequencies since the final positions were determined by acoustic 
measurement and listening, so I don't really know the exact electrical crossover point.
: : The only thing wrong with this combination which makes me hesitate to recommend it universally is 
that it is very easy to make it sound REALLY BAD with the wrong adjustments! This is where the acoustic 
lab's measurement equipment comes in really handy.
: : :And, what are the dimensions of your sub box?
: : I do not use a box. I have the 310rs running free-air mounted on a wood panel firing through the ski-bag
 opening. (Remember, this is an E34, not an E39). The low "Q" design of the 310rs lets it be used this way 
without getting muddy or boomy sounding.
: : : I want to do the upgrade but fear that the door panel's will not seat exactly as they do now - noise free.
: : That should not be a problem if you're careful. BMW assembly methods tend to be pretty well designed 
and are not as fussy as, say, a Mitsubishi. With reasonable care it should go together well.
: : : I was considering just wiring in a new amp and sub and not replacing the speakers. Does anyone know 
the max power handling of the stock system's speakers?
: : The Nokias I took out of my car are rated at 40W. Mids and tweeters will handle considerably less, but 
of course when they are crossed over, they only get a portion of the signal, so even if the amp is rated 
higher they do not actually get more than a few watts sent to them.
: : Best regards,
: : Bob



---


Re: 99 E39 & a/d/s stereo equipment... (archive)).

Posted by Bob Hazelwood on May 26, 1999 at 10:41:54:
In Reply to: Re: 99 E39 & a/d/s stereo equipment... posted by jvr on May 25, 1999 at 19:42
: Bob:
: How did you configure the amplifier's 8 channels?
Because my job (prior to March 1) involved evaluating various new car audio products and systems, I've 
actually had quite a few configurations of the P840 since it was installed. The configuration I recommend 
to someone who does not have a full acoustic lab at their disposal like I do is:
channels 1/2 to the front (335is) tweeters through the passive (335is) crossovers set to "bi-wire" mode
channels 3/4 to the rear (A5is) speakers through the passive crossovers of the (A5is) set for conventional 
single-amp use. channels 5/6 bridged and 7/8 bridged and sent to the front (335is) woofers through the 
(335is) passive crossovers.

The BMW midranges are left disconnected.
The P2110 drives the sub.
The actual configuration that I personally like the best, and what I am currently running, is like this:

ch 1/2 front a/d/s/ 335is tweeters using the P840's active crossover set around 5kHz.
ch 5/6 front BMW midranges, again using the P840's crossover set for a bandpass of approx 2kHz-5kHz
ch 7/8 front a/d/s/ 335is woofers set for a low pass of approx 2kHz.
ch 3/4 running the rears as above.

I say "approx" on the crossover frequencies since the final positions were determined by acoustic 
measurement and listening, so I don't really know the exact electrical crossover point.

The only thing wrong with this combination which makes me hesitate to recommend it universally is that it 
is very easy to make it sound REALLY BAD with the wrong adjustments! This is where the acoustic lab's 
measurement equipment comes in really handy.

:And, what are the dimensions of your sub box?
I do not use a box. I have the 310rs running free-air mounted on a wood panel firing through the ski-bag 
opening. (Remember, this is an E34, not an E39). The low "Q" design of the 310rs lets it be used this way 
without getting muddy or boomy sounding.

: I want to do the upgrade but fear that the door panel's will not seat exactly as they do now - noise free.
That should not be a problem if you're careful. BMW assembly methods tend to be pretty well designed and 
are not as fussy as, say, a Mitsubishi. With reasonable care it should go together well.

: I was considering just wiring in a new amp and sub and not replacing the speakers. Does anyone know the 
max power handling of the stock system's speakers?
The Nokias I took out of my car are rated at 40W. Mids and tweeters will handle considerably less, but of 
course when they are crossed over, they only get a portion of the signal, so even if the amp is rated 
higher they do not actually get more than a few watts sent to them.

Best regards,
Bob


---

Posted by Bob Hazelwood on December 20, 1999 at 19:06:32:
Subject: e39 dsp stereo

Maybe I've been watching Blues Clues with my 3-1/2 year old daughter too much, but once I finally got to 
see one of these new fangled DSP systems in person, a coupla (sic) things led to the fact that the system 
is a lot simpler than we all thought. Ya gotta just love German logic!
As it turns out, the DSP "radio" is exactly the same radio that is in the non DSP system! So, all the same
functions and connections are present to do the same amp and speaker upgrades as the DSP cars. This is 
good news for those of you who are looking to upgrade.

Here is how it works:
1. The present DSP system has the controls up front, which appears to be irrelevant to the discusson (at
least in the car I saw with Nav.)
2. The front conrols operate a separate "radio" chassis, the Nav, the CD player etc. through the
communication bus. The radio itself is a small box about 2 x 7 x 5 with the same connector that BMW uses
for it's in dash radios in one corner. Present on this connector are the left and right audio signals from the
radio. These are only two channels, containing only radio and cassette signals, and they are unaffected by
any of the volume, balance, or tone controls. They happen to be in the same pin locations as the Left front 
and right front connections on the in-dash BMW radios from E36 and E34 models. (Clue #1) Below this
connector are two smaller rectangular connectors which will soon play a part in the solution.
3.The CD changer has a power and digital bus connection. There is a digital connection from the CD
changer to the box which contains the DSP plus amplifier. There is a rectangular connection which is
unused, and matches the unused connector on the radio. (Clue #2)
4.Finally, investigation of the radio showed that the PCB was fully stuffed, (no missing parts) and the PCB
around the large connector showed designations for LR and RR signals. (Clue #3)

As in Blue's Clues, we now know pretty much all the important facts.
It became apparent that the only difference between the DSP electronic hardware was the addition of the
DSP "box" itself, and a different wiring harness! And, oh yeah, that laughable "subwoofer".
Then the final test: disconnect the DSP box, fire up the system and, Voila! The DSP selection dissappears
from the menu, and Bass Treble Balance and Fader appear. The darn thing is Plug and Play! When you
don't have the DSP on the bus, the radio output starts to work like the standard system, and its basic
functions return to the analog outputs. The two things which remain are to get the signal from the CD
changer to the radio, and to get to the rear channel connections of the radio output. The first involves 
buying the short wiring harness used for this purpose in the non-DSP systems. This is a standard BMW part. 

The second involves buying four of the connector sockets which mate with the radio connectors and inserting 
them into the open holes of the plastic plug which goes to the radio. They go into the same positions used 
for rear speakers on he conventional radio. Then just take the DSP box and post it on E-bay, or save it for 
the end of the lease. Unfortunately, I do not know part numbers for the BMW cable and the connectors, but 
you sould be able to get them from your BMW parts dept. 

Since Rich was nice enough to let me share the 
broad knowledge, I respect his desire to keep the finer details of these findings from his immediate market 
area competition by not posting pin locations and part numbers. However, there should be enough information 
in this post so that those of you who are knowledgeable enough that you should be attempting to do this 
yourself in the first place will be able to take it from here. Or, if you're in New England, drop your car 
off at Rich's Car Tunes and have them do the job. If you're not in the Boston area, give Rich a call and 
ask him to put a kit together with the parts you need and instructions. Of course, your local installer 
should be able to figure it out from this post as well. If they can't, DON'T LEAVE YOUR CAR WITH THEM!

Disclaimer: I have no connection to Rich's other than to acknowledge that since they were a key player in
figuring this mystery out they deserve some gratitude, or is that "gratuity" ;-).

Best regards,
Bob 


---


Posted by Bob Hazelwood on December 22, 1999 at 10:12:52:

In Reply to: DSP sound system upgrade update. posted by Bob Hazelwood on December 20, 1999 at 19:06:32:

Hello again,

Since y'all asked:

1. Phone # and Web-site:
Rich's Car Tunes
204 Dexter Ave.
Watertown, MA
617-923-1490
www.cartunes.com

2. Injecting a signal into the DSP system:
Theoreticically, if you were to break into the two-channel fixed level signal with an analog signal of 
approximately the same level as suggested, it should work. However, since I have not actually tried it, 
I don't know if you will run into any ground-loop related noise issues. Even so, these could probably be 
avoided with the right precautions, such as grounding the new source to the same place as the radio chassis.
It is common ground, but I do not know the signal voltage. My guess is that it is set to a level on the 
order of 2-4V, so a personal portable may need some sort of preamp.

3. Adding DSP to standard system:
Theory would say that you should be able to reverse the procedure to add DSP. But again, I have not tried 
this, so I don't know if there are any hidden tricks. You will also need to add the subwoofer and it's 
associated wiring.

4. Yes, the DSP system has more power than the standard system. THis is all contained within the same box 
which contains the DSP circuitry.

BTW, Past history would lead me to believe that a few of you have sent me E-mails as a result of this 
post. The e-mail address linked to my previous post was my office address, and I am taking this week 
off. I am not ignoring you, I just won't see it until next Monday.

Best regards,
Bob


---
---
---
---
Unofficial Homepages: [Home] [E12] [E24] [E28] [E30] [E34] [E36] [Z3] [E39] [E46] [X5/E53] [ALL] [ Help ]